The 8 Best Cigar Humidors in 2023 – Complete Guide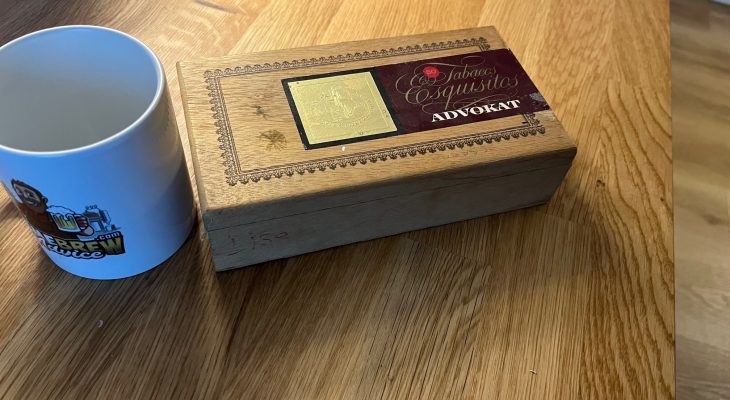 If you're like me, you cherish every cigar in your collection. Dignified, aromatic, and somehow elegant, cigars can make any man appear more sophisticated. If you can't store them, properly, however, you could be missing out on a good experience. That's why I went to great lengths to find the best cigar humidor on the market.
In this guide, I'll go over the eight best cigar humidors I've come across so that you can have the same success I did in finding the perfect model.
From small travel varieties to large, cabinet-sized options, this guide presents them all to give you the most comprehensive look on the web.
Top 8 Cigar Humidors Compared
The following table shows our top picks with the estimated price range and our final rating. There is also a link placed on each option so it will be easier for you to find the product (Amazon links).
The following table is ranked from the most affordable product first to the most premium choice at the bottom.
My #1 Pick

Case Elegance Monogrammed Glass Top Handcrafted Humidor
Elegant, well constructed humidor that can be customized. My favorite on the list.
Now, we are going to talk about some factors you should consider before choosing your own humidor.
You can also skip it and jump to the products review at the end of the post.
How to Choose the Best Cigar Humidors
If you've ever experienced the taste of a stale and dry cigar, you already know how important it is to keep your cigars fresh. Fortunately, cigar humidors make this easier than ever. The right humidor can extend the lifespan and flavor profiles of your favorite cigars.
These humidity-regulating machines are designed to minimize the impact of outside elements on cigar quality, meaning you get to hold onto your purchase (and enjoy it) for longer.
If you're just buying your first cigar humidor, however, you may not know exactly what to look for.
In this guide, I'll go over everything you need to know before purchasing your next cigar humidor. Keep the following information in mind to make an informed purchase.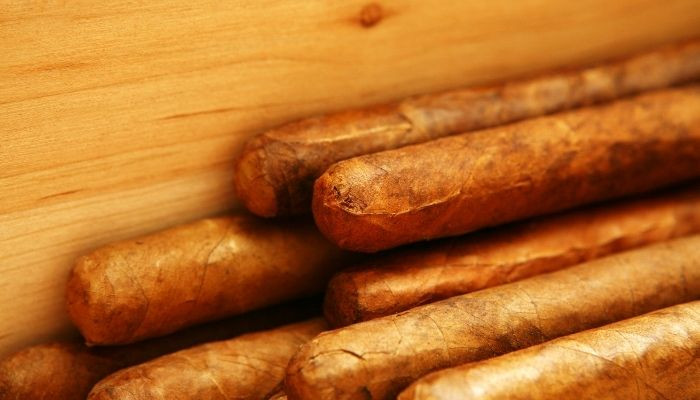 What Is the Purpose of a Cigar Humidor?
Let's start with the basics: what exactly are cigar humidors for? We've touched on this a bit already, but it's time for a more in-depth look. For those unfamiliar, a humidor is a storage container (anything from a small box to a large, closet-sized device) that works to keep its contents at a specific temperature and humidity level.
As you can deduce, then, a cigar humidor is a regulated storage container that works to:
– Keep Cigars Viable
Left to the elements, a cigar can age quicker than you may expect.
That's because the humidity and heat in the environment can cause the tobacco leaves inside the cigar to wither. In low humidity, extreme dryness can make cigars practically impossible to smoke, while high humidity can lead to rot, mold, and even insect infestation—I know, not exactly what you want from your favorite box of Montecristo.
– Preserve Cigar Flavor and Aroma
Of course, just because a cigar can be smoked, it doesn't necessarily mean it's going to taste good. In fact, cigars that aren't stored properly can lose their distinct flavors and aromas in a flash. For this reason, cigar humidors are recommended to preserve—and in some cases even enhance—the flavor of your cigars.
What Makes a Good Cigar Humidor Good?
As with any product, you'll find that some options are better than others. Knowing this, let's take a look at what it is that makes some cigar humidors stand out above the rest.
By following this advice, you can avoid the common pitfalls that cause some people to make a purchase they eventually regret:
– Size
The best cigar humidors are the ones that fit the size of your collection. If you tend to keep around 25 cigars, a 25-cigar model is optimal for you. If you have 100, the same advice applies.
Typically, cigar humidors are constructed in capacity sizes that come in increments of 25, meaning you can buy machines in 25, 50, 75, and 100+ varieties to suit your needs.
Size also comes into play when considering the storage space for your cigars. Ideally, you'll want a machine that can store cigars just a bit bigger (such as an inch) than your desired brand so that the air inside can circulate better and keep your cigars fresher.
– Humidification System
For best results, you'll want to buy a cigar humidor that contains a reservoir (or humidification unit) wherein you can put distilled water to keep your cigars at optimal humidity.
Humidification systems also come with humidity readings (on a hydrometer) and temperature readings (on a thermometer) to give you a better idea of the conditions inside your cigar humidor.
– Seal
The best cigar humidors come with tight seals that keep the humidity in and the ambient elements out.
One way to check the seal on your device is to simply place the lid on the box part of the humidor. You should hear a whooshing sound as the air is sucked in tightly.
NOTE: If it sounds as if you are simply setting something down with a thudding sound, that means the seal on your device isn't tight enough—and that your humidor will largely be ineffective.
– Construction
Aside from the seal, other aspects of construction are important as well. For those who want only the best, hardwood cigar humidors are the way to go—particularly those made from cedar. That's because cedar naturally absorbs moisture without cracking, adding an extra line of defense against humidity for your cigars.
If you're on a budget, you can also go with composite woods, which can get the job done (albeit with a lower degree of efficiency) at cheaper costs.
Do You Really Need a Humidor for Cigars?
Whether or not you need a humidor depends on how much you smoke cigars.
For serious smokers, the answer to this question will always be "yes." That's because there's simply no better way to store cigars and keep them fresh (and therefore ensure that you're not simply wasting your money) than using a cigar humidor.
If you have only a couple of cigars that you plan on smoking within the next few days, you don't need to run out and buy a cigar humidor. If you're the type to collect cigars or would like to play around with different brands and storage to experience ideal smoking flavor profiles, buying a cigar humidor is absolutely necessary.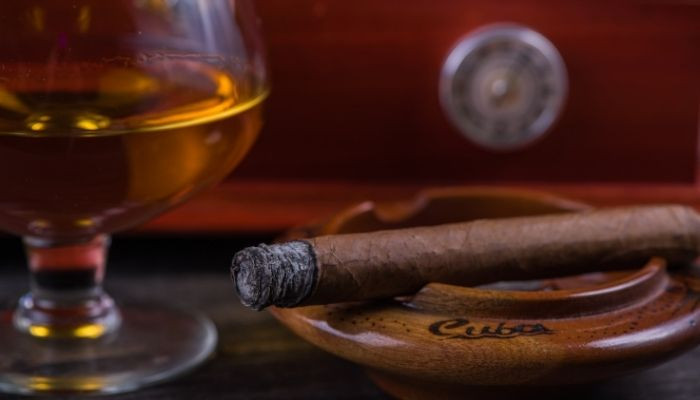 How Long Do Cigars Last in a Humidor?
Of course, if you're purchasing a cigar humidor, you'll want to make sure you're getting your money's worth.
This means understanding how long cigars last in a humidor and the individual factors that can affect the lifespan of your cigars once properly stored.
Let's take a look at some potential influencing factors first:
– Humidor Type
Some humidors simply do a better job than others. The best cigar humidors, however, can keep your cigars fresh for months or even years to come. For this reason, you'll want to go with trusted, recommended, and highly rated brands if you're really looking to get the most out of your cigars.
– Cigar Type
Naturally, cigar type also influences how long your cigars will last in a humidor. More premium options tend to last longer than cheaper options, so you'll want to read up on your favorite brand and its projected lifespan when stored properly.
– Humidor Operation
Last but certainly not least, the lifespan of your cigars will also depend on you.
It's critical that you understand how to work a cigar humidor and know the proper temperatures and humidity levels at which to store your cigars.
Improper storage can seriously cut back on the lifespan of your cigars and defeat the purpose of your purchase.
With all this being said, however, you can expect your cigars to last for months (or, in the case of some cigars, even up to five years) in a cigar humidor.
The best part is this: because many cigars age like wine, this type of storage will help you unlock more sophisticated flavor profiles that are sure to take your smoking game up a notch.
5 Basic Tips for Cigar Humidor Maintenance
Getting the most out of your cigar humidor starts with taking good care of and properly operating your machine. For this reason, let's go over some of the most important tips for cigar humidor maintenance:
1- Season Your Cigar Humidor
If you're using a cedar humidor, especially, you'll want to "season" your device before placing your cigars in it. That's because the cedar will suck in the humidity in the humidor's interior before releasing it back slowly into the environment.
In order to make sure you're not sucking the life out of your cigars, however, you'll only want to put them in the humidor after it's been run at least once.
2- Keep Your Cigar Humidor Filled
You can't maintain proper humidity levels in your device without refilling it as directed (whether your humidor is bead-based, crystal gel-based, foam-based, or a Boveda model). Depending on the model, you may need to refill your humidor every other day, week, or month.
3- Store Your Cigar Humidor in a Cool (and Dry) Place
Cigar humidors are highly affected by the ambient climate, meaning you'll want to find somewhere cool and dry to keep your cigars from becoming too humid or too hot. This will help prevent temperature fluctuations and preserve the taste and lifespan of your cigars.
4- Use the Right Filler
There are two main solutions you can use when filling your cigar humidor: distilled water and propylene glycol. For those who expect to frequent their humidor regularly, distilled water is a better option, as it is generally low maintenance and can be refilled regularly.
If you're more of an occasional smoker, propylene glycol is likely the better option for you. Because it takes more for this solution to evaporate, it will last longer and be a less-maintenance option for your needs. It's also better for your cigars due to its anti-fungal properties.
5- Check Your Hygrometer Regularly
For best results, you shouldn't just assume that your humidor is doing its job. Make sure you check your hygrometer at least once a week to ensure it's operating at ideal humidity levels.
Humidity and Cigar Humidors
To achieve the best results with your cigar humidor, it's important you understand the ideal humidity levels at which to store your cigars.
The specific level at which to set your hygrometer may differ by cigar brand, but the generally accepted range for cigar humidors is between 70-75 percent humidity.
Additionally, you'll want to pay special attention to the temperature at which you set the device.
Typically, the ideal temperature range for storing cigars is between 68-70 degrees Fahrenheit (20-21 degrees Celsius).
List of 8 Best Cigar Humidors in 2021
#1 ON A BUDGET
Price Range: $
Homebrew Rating: 4/5
Compact and portable, this good-looking model from Scotte has become a popular option for those looking to smoke their cigars on the go.
PROS
Let's take a look at a few of the pros associated with this design:
– Portable
Small enough to fit in your travel bag or purse, this affordable option can go wherever you do. If you're looking to be on the road, the Scotte Leather and Cedar Cigar Humidor is a convenient option.
– Well-Crafted
Composed of an exterior leather and an interior cedar that helps absorb moisture, this Scotte model doesn't disappoint when it comes to overall craftsmanship or efficiency. This comes in part from the model's strong seal and accurate hygrometer.
– Fashionable
This same craftsmanship helps this portable Scotte model be ultra-fashionable, as well. The leather exterior makes it a great option to show off, and the cedar inside gives the product a high-quality appeal.
CONS
With this being said, however, there are a few cons you'll want to keep in mind before making your purchase:
– Air Travel Issues
Though this option is marketed as being highly portable, you'll want to think twice about brining it with you on an aircraft. Consumers who have purchased this option report being stopped by airport security when attempting to carry this device with them through the air.
Scotte Leather and Cedar Cigar Humidor
Small & fashionable this humidor is perfect for those who need a portable option.
#2 GREAT FOR BEGINNERS
Price Range: $
Homebrew Rating: 4,25/5
Crafted from authentic Spanish cedar hardwood, this glass-top option from Mantello is a number-one bestseller. Priced affordably, the device can hold between 25-50 cigars, depending on ring size, and boasts an elegant rosewood finish that makes the humidor seem more expensive than it really is.
PROS
Let's take a look at some of the specific pros of this model:
– Sleek Glass-Top Look
With a classy glass-top, this Mantello cigar humidor allows you to show off the impressive collection you have inside. Whether you're keeping it on your desk to show off to your guests or will simply admire it privately, the option is sure to aesthetically please.
– Removable Divider for Easier Organization
It's not just the looks of this thing that will have you pleased, however. The device comes with a removable divider that can help you sort your cigars by brand, ring size, or other unique preference.
– Durable Construction
Perhaps most important for your purposes, this Mantello model boasts superior construction. Consider this option for its tempered glass (which is highly effective at combatting scratches and dings) and felt-lined bottom, which prevents accidental scratches.
CONS
This highly reviewed Mantello option isn't without its flaws, however:
– Inaccurate Hygrometer Readings
It's not uncommon for readings on this hygrometer to be plus or minus two degrees in the wrong direction. For this reason, you'll want to verify the humidity levels in the device with another hygrometer before you take the readings as accurate.
Mantello Royal Glass-Top Cigar Humidor
Solid, well constructed humidor. Great quality for the price.
#3 WATERPROOF HUMIDOR
Price Range: $
Homebrew Rating: 4,25/5
Designed with functionality in mind, this Cigar Caddy model is great for those who are always on the go. The device is medium in terms of size and boasts a number of cool functions that could make you want to reconsider your purchase of another model.
PROS
Let's take a look at a few of this model's biggest benefits:
– Waterproof
One of the most popular reasons behind purchasing this model is its famed waterproof abilities. The case itself will float on water if dropped, but it has the ability to keep your cigars fresh even when submerged in 100 feet of water.
– Highly Durable
In addition to its impressive waterproof capabilities, the model boasts high durability in other ways. Molded from strong ABS plastic, this Cigar Caddy option is crush proof and won't get dinged or dented no matter how clumsy you (or those around you) are.
– Efficient
This added protection naturally leads to higher levels of efficiency. The model comes with an airtight seal that will help your cigars stay fresher for longer, no matter the outside conditions. In fact, this impressive caddy can withstand external temperatures between -10- and 175-degrees Fahrenheit!
CONS
Given these benefits, however, it's also important to look at the flaws:
– Basic Design
For all its strengths, this model suffers aesthetically. Unlike other models that boast impressive wood finishes or glass-top elegance, this option suffers from a basic design that won't garner much attention from your guests or friends.
#4 GREAT VALUE FOR THE MONEY
Price Range: $$
Homebrew Rating: 4/5
If the other option from Mantello didn't do it for you, perhaps this one will. This model is one of the largest cigar humidors on this list, with the capability of holding between 50 and 100 cigars depending on ring size. A glass-top and mahogany finish help imbue it with the trademark Mantello class and distinction.
PROS
Here are some of the pros I love about this model:
– Removable Cedar Tray
A removable cedar tray helps make this option more functional and beneficial for consumers. Organize your cigar collection your way so that you can improve the display of your model or make it easier to sort through your sizeable collection of cigars.
– Large Capacity
This cigar humidor can hold an impressive display of cigars (up to 100), making it a great option for those with larger collections. Despite its large capacity, however, the model is lightweight, making it a portable option for those who are on the go.
– Lock
Want to keep your collection protected from unwanted hands? This Mantello option makes it easier than ever with a strong lock.
CONS
I was able to find one flaw with this model, however, that I think you should know about:
– Suspicious Seal
While many customers faced few problems with the device, reports of improperly sealed seals make this a potentially troublesome model. If ordering, it's best to confirm the quality of the seal in advance to avoid the hassle that comes with manufacturing defects and returns.
Mantello Cigar Humidor with Removable Tray
Well rounded humidor with a nice-to-have removable cedar tray.
#5 CUSTOMIZABLE HUMIDOR (MY FAVORITE)
Price Range: $$
Homebrew Rating: 4,75/5
As the name implies, this glass-top cigar humidor emits elegance. A beautiful glass-top and classy wood finish help make the device a definite showstopper in front of guests.
PROS
Let's take a look at some of the best advantages that come with this device:
– Customizable
By far one of the coolest things about this Case Elegance model is its ability to be personalized just for you. Get your last name put into the glass-top for a more intimate experience.
– Durable Seal
While the monogrammed glass may be the most jaw-dropping aspect of this cigar humidor, the durable seal that comes with the model is just as important. With a strong sealing ability, this model helps keeps cigars fresher for longer.
– Advanced Hydro System
I'd be remiss not to talk about the advanced hydro system that puts this model into a higher tier of the best cigar humidors.
The system, currently pending patent, helps distribute humidity evenly throughout the device and even comes with the brand's signature hydro sticks and humidifying gel for a better experience. Accurate hygrometer readings further make this a reliable go-to option.
CONS
With this being said, I'd advise you take note of the following:
– Can Be Dinged and Dented
You'll need to be very careful with this device in order to make sure it doesn't get scratched, dented, or dinged.
Case Elegance Monogrammed Glass Top Handcrafted Humidor
Elegant, well constructed humidor that can be customized. My favorite on the list.
#6 GREAT OPTION FOR COLLECTORS
Price Range: $$
Homebrew Rating: 4,5/5
Modern on the outside and classic on the inside, the Woodronic Handmade Cigar Humidor Cabinet is one of the best-looking models on this list. This efficient model is meant for more serious collectors, boasting the ability to hold up to 100 cigars at a time.
PROS
Given this introduction, let's take a brief look at some of the most notable pros offered by this device:
– Precise Humidity Control
With this Woodronic model, you won't have to worry if you're getting an accurate reading. Rather than a traditional analog thermometer, the system uses an efficient electronic thermo hygrometer that accurately reads out your device's humidity level.
– Advanced Organization
The way your cigars age can depend on organization. Fortunately, this device comes with three cedar trays and dividers that will help you sort through your large collection and get the most out of your cigars.
– Large Capacity
Though individuals who collect larger cigars may not be able to reach peak capacity, the machine boasts an impressive 100-cigar storage size that should have any collector excited about the possibilities.
CONS
Despite these advantages, the model does present one important flaw:
– Tricky Setup
For first timers, especially, the setup of this Woodronic model can be quite tricky. Most notably, it can be difficult to install the humidifier in the necessary location (making this option a little more difficult for those with limited technical knowledge).
Woodronic Handmade Cigar Humidor Cabinet
Solid option for those who want to get more serious about cigars.
#7 UNIQUE, EXCLUSIVE CIGAR HUMIDOR
Price Range: $$$
Homebrew Rating: 4,5/5
Designed with a unique octagonal shape, the Octodor Piano Finish Cedar Humidor is the largest model offered by the Case Elegance brand. This unique cigar humidor holds up to 100 cigars, making it a viable option for serious cigar collectors.
PROS
Knowing this, let's take a look at a few of the pros offered by this Case Elegance model:
– Advanced Hydro System
Like other Case Elegance brands, the Octodor comes with an advanced hydro system designed to keep your cigars fresh for as long as possible. Low-maintenance and accurate, this system makes it easier than ever to properly store your cigars.
– Accessory Storage
Convenient accessory storage makes this model worth of a second look. This storage can be done in a large, felt-lined rawer located at the bottom of the humidor.
– Eco-Friendly
In order to offset the damage done by the use of wood in their products, Case Elegance has partnered with Trees for the Future to plant over 30,000 trees, making it one of the most eco-friendly cigar humidor brands out there.
CONS
Despite these advantages, you'll want to be aware of this particular flaw:
– Can Be Dinged
This Case Elegance model may be something of a work of art, but the soft exterior construction means you'll need to very careful not to damage the product during installation.
Case Elegance Octodor Piano Finish Cedar Humidor
If you want something very unique, this is your best option.
#8 LARGE CAPACITY HUMIDOR FOR SERIOUS COLLECTORS
Price Range: $$$
Homebrew Rating: 4,5/5
Crafted with high-quality Spanish cedar, this large-capacity model from Audew works overtime to keep your cigars safe from insufficient or excess humidity. This option works on thermoelectric technology and offers a convenient touchscreen control panel for easy use.
PROS
The Audew JC-23C1 model comes with a number of pros:
– Large Storage Capacity
If you're a major collector, you won't be disappointed at this machine's large storage capacity. Able to hold 150 cigars at a time, this model likely has you covered, no matter the extent of your collection.
– Modern Look
Just as important, this Audew option is crafted from Spanish cedar and glossy iron for a modern look that won't bring down the vibes in your room. A piano black finish gives off an upscale look (a great complement to your cigar collection).
– Strong UV Protection
More importantly, however, the machine boasts double coated glass doors that block out unwanted and damaging light for fresher cigars over time.
CONS
Having said this, there are some cons to this machine you should be aware of before making your purchase:
– Potential Temperature/Humidity Fluctuations
Some consumers have reported temperature/humidity fluctuations and inconsistencies with the model, meaning you may need to check the device's accuracy with your own thermometer/hygrometer before trusting it.
This could be a result of the model's thermoelectric cooling, which is heavily affected by ambient temperatures.
TIP: Consider storing the model in a cool and dry place away from extreme temperatures.
Audew JC-23C1 Electronic Cigar Cooler Humidor
Large-capacity (up to 150) cigar humidor made of Spanish cedar.
Conclusion
Whether you're making your first purchase or are looking to upgrade, understanding the characteristics of a good cigar humidor can help you find the right product for you. In this guide, I went over some of the most important factors to consider when buying a cigar humidor so that you can purchase a model that keeps your cigar collection fresh year-round.
Which one would I recommend?
Overall, I'd put my vote to the Case Elegance Monogrammed Glass-Top option (Amazon link) for its combination of beauty, personalization, and efficiency. The fact that you can customize it and its price is on the mid-range is very appealing to me.
You might have other priorities though! Check out the list and make sure to use this guide to find your favorite.
I hope it was helpful!
…