The 7 Best Dual Zone Wine Fridges in 2023
When I set out to find my first dual zone wine cooler, I faced a dilemma: with so many good (and similar) options on the market, how was I supposed to know which one was the best? As far as problems go, it was a great one to have, though it still one required some serious consideration.
It took some research, but I eventually found the dual zone wine cooler that was right for me (and plenty of other great options).
In this guide, I'll share seven of the best dual zone wine fridges on the market today so that you can find the option that gives you the most bang for your buck.
Keep reading to find out!
Top 7 Dual Zone Wine Fridges Compared
The following table shows our top picks with the estimated price range and our final rating. There is also a link placed on each option so it will be easier for you to find the product (Amazon links).
The following table is ranked from the most affordable product first to the premium choice at the bottom.
My #1 Pick
Sale
Last update on 2023-11-29 | *Contains Affiliate links | *Images sourced from from Amazon
Now, we are going to talk about some factors you should consider before choosing your own humidor.
You can also skip it and jump to the products review at the end of the post.
How to Choose the Best Dual Zone Wine Fridges
You can't have the ideal dinner party, special event, or celebration without wine—though the wine itself is almost useless if you don't have a way to store it (or serve it at the right temperature).
For this reason, it may be time to consider investing in a quality wine cooler, by which I mean, of course, a dual zone wine cooler.
With a dual zone wine cooler, you'll be able to store and serve both red and white wines at their ideal temperatures, ensuring the quality of your wine (and the success of your event).
But which dual zone wine cooler should you buy?
In this guide, I'll go over the qualities found in the best dual zone wine fridges and what you should look for when making your own purchase. Keep reading to find out more!
Why Have a Dual Zone Wine Cooler?
Let's start with the basics: why should you buy a dual zone wine cooler in the first place? Perhaps your single temperature cooler has served you adequately to date. If you own one of these coolers, however, you're already aware of its biggest drawbacks: a single temperature cooler serves all wines (no matter the color) at the same exact temperature.
Obviously, this is less than ideal.
More versatile dual zone wine fridges, however, allow you to store and serve your wines at their unique serving temperatures, enhancing flavor and bringing out the best qualities of your wine. This could be a great investment for anyone, especially for those looking to impress on social occasions.
How to Choose the Best Dual Zone Wine Fridges
So how do you choose the best dual zone wine fridges? There are a few must-know factors you'll want to consider, many of them dependent on your actual wine storage needs. Let's take a look:
– Temperature
The necessary temperature of your wine cooler naturally depends on the types of wines you are looking to store. Red wines, for instance, tend to be stored at higher temperatures than white wines (between 50F and 66F for red wines versus 40F and 50F for their white counterparts).
For this reason, you'll want to find a cooler that accommodates the specific temperature ranges of your wines. As we'll see coming up, this largely depends on whether the cooler works through compression or thermoelectricity.
– Installation Method
Most traditional dual zone coolers are built-in models, meaning they will be installed directly into your home just as a refrigerator would be. This, obviously, requires a more involved setup process (and likely more technical knowledge on your part).
Many newer (and generally thermoelectric) models, however, are freestanding, meaning they don't require the extensive installation that a built-in model would and are more portable. This means you have greater flexibility in where you will store your wine.
– Noise
If you're going to put your wine cooler in a more public part of your house (such as your kitchen), it's important to understand that, just as most appliances do, wine coolers can give off unwanted noise—and some more than others.
As we'll see coming up, the amount of noise a wine fridge gives off depends on the number of moving parts in the cooler (largely coming down to the cooling system used in the model). While most wine coolers aren't egregiously loud, it's best to be prepared for some noticeable sound.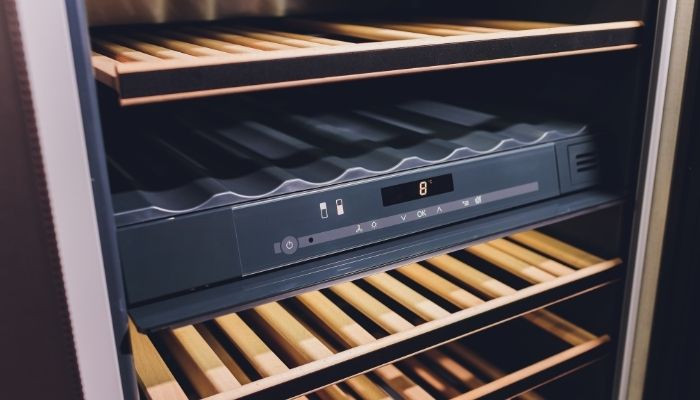 Three Things to Look for Before Buying a Dual Zone Wine Fridge
With this being said, let's take a look at three specific aspects of wine coolers that you'll want to consider before making your purchase. Each of these factors can impact your capability to store and the resulting quality of your wine:
1.Thermoelectric vs Compressor
Not all wine coolers are created equally—and I mean that literally. In general, there are two major types of wine cooler that you'll want to understand before purchasing your dual zone wine cooler: thermoelectric options and compressor options.
What's the difference between the two? As the names imply, these two wine coolers differ based on the method by which they chill your wine.
Let's take a look at each of them in turn to get a better idea of how they work and how they may affect your wine:
Compressor Coolers
A compressor dual zone wine cooler works just like your standard refrigerator, relying on coolants such as freon to produce cold air. The wine cooler's compressor system will grab hold of the refrigerant molecules and turn them into heated vapor to be captured by the product's condenser, which will cool the vapor and expel any heat from the system.
The result is a cooler that can chill wine to low temperatures (as low as 39 degrees Fahrenheit in many cases). While this makes compressor coolers more efficient than their thermoelectric counterparts, keep in mind that these products also tend to be noisier, larger, and harder to install. Perhaps most importantly, they produce unwanted vibrations that can, over time, impair the quality of finer wines.
Thermoelectric Coolers
Thermoelectric coolers, on the other hand, work through a phenomenon known as the Peltier effect. Though these coolers also use a fan to move cold air about the inside of the system, they differ in the way by which cold air is produced.
Specifically, thermoelectric coolers work by trapping heat in one side of the system, leaving one side cool enough to preserve wines.
Because these systems work largely based on the ambient temperature of your room, however, they don't reach the temperatures you could expect with a compressor cooler.
Despite this, there are noted benefits to thermoelectric coolers. For starters, they don't produce the harmful vibrations that can harm fine wines stored for extended periods of time. They also don't rely on environmentally harmful products such as coolants and refrigerants and also produce less noise.
Read Also: Best Thermoelectric Coolers
2. Capacity
You'll also want to take into account the storage capacity of your potential freezer. If you've amassed an impressive collection of wines, you'll naturally need a larger device.
In terms of actual storage capacity, there's a range of options on the market, with smaller freestanding models offering 24-bottle storage and larger devices being able to store up to nearly 170 bottles.
Of course, you can expect price to differ based on storage capacity, so keep that in mind before preemptively buying a larger model.
NOTE: It's worth noting that compressor coolers tend to offer larger storage capacities (an added perk if you're already leaning in that direction).
3. Design
For best cleaning, storage, and organization, removable shelves are a must. Unfortunately, not every model comes with this convenient feature.
Before making your purchase, then, you'll want to check to see if your desired option does (and decide whether it's worth the investment in your case).
You'll also want to see the material they're made out of. While the best options are generally crafted from stainless steel, there are great steel and metal options out there too (usually in a lower price range).
What Temperature Should a Dual Zone Wine Fridge Be Set At?
The temperature of your dual zone wine fridge will ultimately depend on the types of wine that you are storing (and the model of wine cooler you are using).
As mentioned, red and white wines have different recommended storage temperatures, and different models have different cooling capacities. Red wines, again, should be stored between 50-66F, while white wines must be stored in the cooler 40-50F range.
You'll find that this isn't always easy with thermoelectric models, particularly if you live in a naturally hot climate.
Because a thermoelectric model's Peltier plate relies on ambient temperature to cool the system, the temperature at which wines are cooled are naturally dependent on the local climate and thereby also subject to fluctuations in temperature.
Here's a general rule: a thermoelectric model will cool 40 degrees F below the outside temperature.
If you live somewhere where summertime temperatures are routinely above 90F, then, a thermoelectric model may not do much to keep your wines cool, especially if you lack a cooler basement area in which to store your wines.
For this reason, in addition to ascertaining the specific temperature ranges a dual zone wine fridge should be set at, it's also encouraged to make sure your device is able to reach and maintain those temperatures at all times throughout the year to preserve the quality of your wine.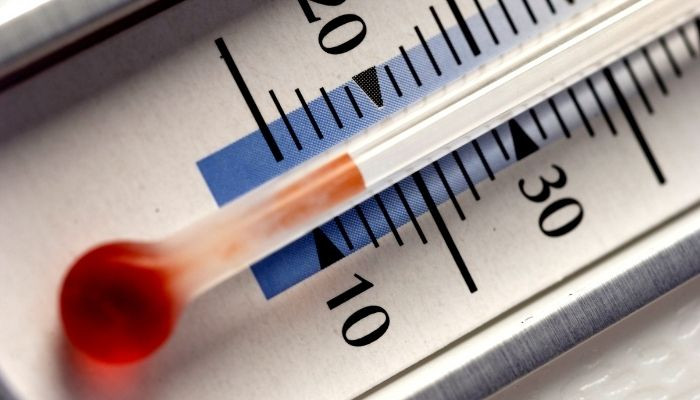 Benefits of a Dual Zone Wine Cooler
By now, you may be sold on upgrading to (or making your first purchase) a dual zone wine cooler. If not, let's go over some additional benefits to having one of these bad boys in your home.
We already know that these coolers allow you to serve multiple types of wine at their ideal temperatures, but these extra benefits are an added bonus you shouldn't ignore:
– Longer-Lasting Wine
Extend the shelf-life of your wine with a dual zone wine cooler. While a single temperature cooler can do the same thing, it can't do it with the same efficiency, particularly for white wines that require lower temperatures. Whether you've opened the bottle already or not, a dual zone cooler is the optimal way to keep your wine tasting fresher for longer.
– Sleek Design
Though it's a little beside the point (after all, nothing is as important as making sure your wine stays fresh), many dual zone wine coolers come with sleek, modern designs that can help bring more sophisticated vibes to your kitchen.
LED lighting and temperature displays on many models help enhance this look, giving an added benefit to an already cool product. Combined with the dual efficiency of these coolers, this extra benefit is worth consideration, particularly for built-in models that will inevitably influence the look of your kitchen.
List of 7 Best Dual Zone Wine Coolers in 2021
So what dual wine coolers do I recommend? Take a look at the options below, which offer something for both beginners and aficionados alike.
#1 ON A BUDGET
Price Range: $
Homebrew Rating: 4,5/5
A standalone dual zone cooler with touch screen controls, this popular option from Koolatron offers consumers a more modern way to chill their wines. Though the cooler can only hold twelve bottles (six per each zone), it comes with perks such as LED lighting and touchscreen temperature adjustment for a sleeker, more attractive design and added convenience.
PROS
Knowing this, let's take a look at some of the biggest advantages consumers find with this Koolatron model:
– Freestanding
With built-in models, it can often be difficult to find a good spot for your wine cooler. The Koolatron WC12DZ Dual Zone Thermoelectric Cooler takes that hassle away by coming in freestanding form, meaning it can be plugged up and used anywhere you wish. This can help those who are looking for a more flexible setup and a more portable model.
– Minimal Vibration
Consumers also love the product's minimal vibration output. Strong vibrations can result in damaged wine over time, so this Koolatron option's ability to keep wine fresh for longer is beneficial to everyone. For those looking to store their wine long term, this cooler even comes with UV radiation protection built into the door.
CONS
No product is perfect. Before purchasing this Koolatron option, make sure you're aware of this commonly reported con:
– Temperature Fluctuations
Despite the convenience of the touch-pad temperature control pad system, users should watch out for unwanted temperature fluctuations, which have been reported with this model.
Koolatron WC12DZ Dual Zone Thermoelectric Cooler
Great option for small apartments at a great price.
#2 ENERGY EFFICIENT COMPRESSOR WINE COOLER
Price Range: $$
Homebrew Rating: 4,25/5
Looking for something a little bigger? This option from Wine Enthusiast may be what you need. Using compressor technology, this model reaches lower temperatures than its thermoelectric counterparts but may give off more vibrations. A special display rack in the bottom shelf allows you to show off your favorite wines, making it a perfect party option.
PROS
Against this backdrop, let's take a look at a few more pros associated with this wine enthusiast model:
– Reliable
The model's built-in compression system allows for reliable cooling that doesn't depend on the ambient temperatures in your home. This makes the product a safe option for those who live in warmer climates, as the machine can be run throughout the year without issue.
– Energy Efficient
The product is also energy efficient. Whether you're looking to save the environment (or just a few bucks on your power bill), the new-age compression technology powering this device can help you get the job done. For reference, this wine wnthusiast cooler runs with 3x the efficiency of the average thermoelectric model.
CONS
Before purchasing this piece, however, you'll want to keep the following con in mind:
– Noisy
The model's compressor system turns itself on every few minutes, and it announces itself pretty loudly when it does. You'll want to be aware of this product's comparatively high noise level when making your final decision.
Wine Enthusiast 18-Bottle Dual Zone MAX Compressor Wine Cooler
Energy efficient compressor wine cooler. Solid option.
#3 MY FAVORITE
Price Range: $$
Homebrew Rating: 4,75/5
This mid-size stainless steel model from NutriChef also happens to be one of the hottest on the market today. Specifically, it combines many of the most desired elements into one simple wine cooler that's consumer friendly and attractive.
PROS
There are a number of pros associated with this model. Let's take a look at a few:
– Built-In Fan for Superior Circulation
A quiet, built-in fan and ventilation grill allow for better air circulation inside the system. This means that chilled wines last longer—a benefit any wine collector will love.
– Compact
This product's compact size makes it an ideal option for those with limited space. The NutriChef PKCWC24 can be placed on the floor, countertops, and other surfaces without losing any functionality. This is because, in addition to the product's convenient compact size, the model is also freestanding, giving consumers more flexibility when it comes to placement.
CONS
With the good comes the bad. Be sure to check out this commonly reported flaw:
– Tricky Setup
Though this NutriChef model can up the look of your kitchen or wine cellar once it's been installed, actually installing the product can be somewhat tricky. Specifically, you may need to have some longer screws on hand, as the given screws that are meant to attach the doors to the product might be too short.
#4 BEST VALUE FOR MONEY
Price Range: $$
Homebrew Rating: 4,75/5
This versatile option from Nictemaw is ideal for those looking for a bit of everything. Freestanding, this model can also be built-in at the consumer's behest. A larger capacity size of 32 bottles makes this an option for serious wine collectors, while the eye-catching LED lights and touch displays help the piece complement (and even improve) the ambiance of your home.
PROS
There are more reasons to consider this model. Specifically, you'll want to be aware of the advantages listed below:
– Super Cool Storage
With the ability to store wines even at 40 degrees F, this product is perfect for those with more delicate wines. An additional carbon filter helps keep the air inside the system purified for better tastes and improved longevity.
– Low Vibrations and Noise
Those looking for a quiet model will also enjoy this Nictemaw option's low vibration output and quiet noise levels. Maxing out at just 42 Db, this model won't disturb you with noise, despite its high-powered compressor.
CONS
You'll want to be aware of this con, however, when making your purchase:
– Weight
Because of its size, this Nictemaw dual zone cooler is heavier than many of the other options on this list. This could complicate setup, though it still remains quite a portable option
Nictemaw Dual Zone Wine Cellar
Elegant unit, with all you need to store up to 32 bottles. My second favorite.
#5 STYLISH UNIT WITH LARGE CAPACITY
Price Range: $$$
Homebrew Rating: 4/5
If none of the above models cut it for you in terms of size, perhaps this large option from Antarctic Star will. With a 46-bottle storage capacity, this model is more suited to experienced collectors who are looking for a quality piece to store their wines.
PROS
This Antarctic Star dual zone wine cooler offers some notable advantages:
– Maximizes Wine Longevity
Low vibration output and double-layered glass doors work to maximize the longevity of wine stored inside the machine. Specifically, these factors help to keep wine undisturbed and untouched by unwanted UV radiation, which can keep your wine tasting fresher for longer.
– Stylish
With a compact size, futuristic LED lights, and a mixed stainless steel and wood design, the Antarctic Star 24" Wine Cooler is undeniably stylish. This means you can use it both to store your wine and improve the look of your room.
CONS
Unfortunately, the model does have one mentionable flaw:
– Layout
Unlike other systems, this Antarctic Star piece allows for white wine storage at the top of the model. This means that the top cooler is the "cooler" of the two—but it's also the smaller one. The lack of 50/50 storage space could put some white wine drinkers off from purchasing the device.
#6 COMPACT UNIT FOR LARGER COLLECTIONS
Price Range: $$$
Homebrew Rating: 4,25/5
This 40-bottle dual zone wine cooler from Kalamera is a great option for those with larger collections. Convenient touchscreen displays, child lock security, and a smart alarm that alerts consumers when the door is not closed all make this one of the more user-friendly models on the market.
PROS
Having said this, let's take a look at some of the biggest advantages to the Kalamera Wine Cooler:
– Versatile Setup
Around 33" in height, this model is compact enough to fit neatly into your countertop display, while large enough to stand on its own without looking awkward.
– Ideal Temperature Range (Year-Round)
The Kalamera Wine Cooler chills wines between 40-66 degrees Fahrenheit, meaning it can handle most white and red wines you throw its way. The best part, however, is that the system's compressor cooling technology allows for these temperatures to be maintained throughout the year.
CONS
Despite these pros, there is one major setback to the device:
– Inaccurate Temperature Readings
Several customers have reported problems with the device's temperature readings, noting that the device will show temperatures that are lower than the real deal. This could be a problem for white wine enthusiasts, especially, given the delicacy of storing white wine.
#7 PREMIUM CHOICE
Price Range: $$$
Homebrew Rating: 4,75/5
Able to hold 45 bottles, this model from Zephyr is one of the largest on this list. It also comes with an array of features that consumers love to rave about: safety locks, convenient alarms, and three different LED light colors.
PROS
That's not all there is to like about this machine, however. Check out these major positives concerning this device:
– Patented Temperature Control
This machine's patented PreciseTemp technology means that you get the correct reading for your wine temperatures every time. While we're on the subject of temperature, this system also comes with Active Cooling technology, which ensures both white and red wines stay at their ideal storage degrees.
– Vibration Dampening
Just as important is the Zephyr Presrv's vibration dampening system. This technology helps the machine eliminate those harmful vibrations that can damage wine over time. For you, this means longer-lasting and better-tasting wine.
CONS
There is one con that you should be aware of before purchase, however:
– Layout
The bottom zone of this device is noticeably larger than the top zone, which may not be a problem for white wine enthusiasts. Still, for those seeking a 50/50 layout, this product may not be ideal. The good news is that the larger bottom zone layout allows for the storage of bigger bottles of wine—a perk for those with bottles that don't fit standard dimensions.
Conclusion
Having trouble finding the dual zone wine cooler that fits your needs? Hopefully, this guide has helped you.
In this piece, I went over seven of the top options on the market today, providing a comprehensive review of their pros and cons. Use this advice to help weigh the models against each other to find a cooler that does everything you want.
As noted before, the one I chose was the NutriChef PKCWC24 (Amazon link). I live in a mid-sized house, therefore I don't need large units that take up lots of space. On top of that, this cooler has everything I need -from capacity to style-
Almost ready to make your purchase? Make sure you check back here to make sure you have all bases covered before purchasing your dual zone wine cooler!

…