Does Brewing Beer Create CO2? (Brewing Process Facts)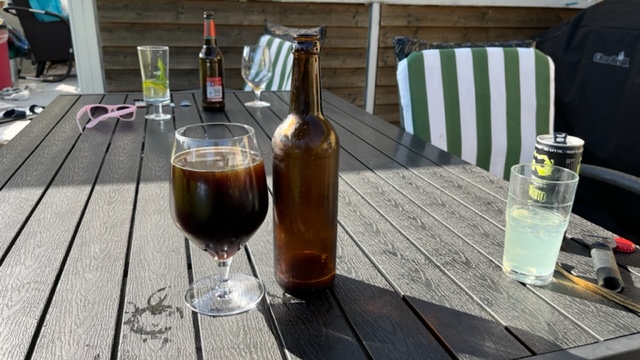 There are many steps to the beer brewing process. If you're interested in making home-brewed beer and want to learn more about the process, you may be wondering if brewing beer creates CO2.
Brewing beer creates CO2 when sugar is added to the mix. The yeast reacts with the sugar, creating CO2. CO2 is necessary for beer as it gives it an airy texture and adds carbonation. CO2 produced in the brewing process is either released or retained.
This article will discuss CO2 in beer brewing in greater detail. It will also discuss how to remove CO2 from beer and whether or not all beers have the same amount of CO2.
How Does Brewing Beer Create CO2?
Brewing beer creates CO2 naturally right after fermentation is finished—as I mentioned, the yeast reacts when you add sugar to the mixture. As a result, you get CO2. This process occurs in every brewing process, so understanding is essential.
However, some breweries allow the CO2 to escape once it's created. If this occurs, you'll need to add CO2 back into the mix—this process is called forced carbonation.
Below, I'll discuss the two main carbonation methods in beer brewing.
Natural Carbonation
Some brewers prefer this carbonation method because it keeps the process natural and doesn't require adding anything extra to the mix.
Once the CO2 is created (after you add the sugar), it's trapped by using a spunding valve. The CO2 remains in the beer in an airtight container.
Natural carbonation is much longer than the other process (forced carbonation). Generally, the beer won't be ready to drink for a few weeks once the process is finished.
Natural carbonation also requires high-quality equipment because you need to trap the CO2 effectively.
Forced Carbonation
Forced carbonation occurs when brewers allow the CO2 to escape after fermentation. Since it all escapes, CO2 must be re-added to make the beer drinkable and give it a fizzy texture. To add CO2 into the mixture, we use the forced carbonation method.
According to the University of Florida, you must use a pressurized vessel to carry out forced carbonation.
In most cases, brewers inject CO2 into the liquid and keep it sealed for a few days. Then, it's ready to be consumed. Since you can drink it within a few days, forced carbonation is more time-efficient than natural carbonation.
Which Is Better: Natural or Forced Carbonation?
Forced carbonation is better in most cases because it doesn't require as much equipment, and the process is quicker. However, some would say natural carbonation is better because you don't have to do the extra step of adding CO2 back into the drink.
So, deciding which one is better will largely depend on how much time you have and what equipment you have. Natural carbonation will be a better option if you don't want to spend much money on high-quality equipment and don't mind waiting a few weeks.
On the other hand, forced carbonation is the way to go if you don't mind spending extra money and want the beer to be drinkable within a few days of the brewing process.
How To Remove CO2 From Beer
To remove CO2 from beer during brewing, you must allow it to escape after fermentation. However, removing CO2 from beer after the fermentation and brewing process is different. The best way to do it is to remove the bottle cap from the beer and keep it in the fridge.
With the lid open, the CO2 will naturally release over time. It's impossible to buy or make beer free from CO2, so you'll need to use this method if you want to remove it after brewing.
But there is no reason why you should remove CO2 from beer because it gives it fizz and foam, two of the most important aspects of beer!
Do All Beers Have the Same Amount of CO2?
Not all beers have the same amount of CO2. The amount of CO2 in a beer depends on the type and processes used. That's why some beers have flatter textures than others or why some beers have more of a head (white foam) than others.
For example, cream beer generally contains higher levels of CO2 than a pale lager like San Miguel.
It's important to remember that there are many beers out there, and there are also other beverages like stouts and ales. So, it's natural that different things have different levels of CO2.
While different beers and beverages have varying levels of CO2, most lager beers are in the range of 2-2.5 volumes. However, some cream beers can have as much as 2.8 volumes of CO2.
Why Is CO2 Necessary for Beer?
CO2 is necessary for beer because it improves the flavor and gives it a fizzy texture. Without CO2, beer wouldn't taste as good, and the texture would be flat. It would also be impossible for beer to have foam without CO2.
That's why beer that's open for a while never tastes as good. When a bottle sits out for a while, the taste becomes flat. So ensuring your beer has adequate levels of CO2 is necessary if you want it to be on par with other beers.
To recap, here are some of the main reasons why CO2 is essential for beer:
Fizz. The CO2 in beer creates bubbles and fizz, which is one of the things people enjoy most about beer.
Foam. As well as fizziness, CO2 gives beer and other alcoholic beverages the iconic foam (another thing that many people enjoy about beer) at the top of the drink.
Taste. Although CO2 is tasteless, its properties help improve and enhance the beer's flavor.
Conclusion
Brewing beer creates CO2 when sugar is added to the mixture. Once you add sugar, the yeast reacts with it. As a result, you get CO2. There are two ways to handle this:
Natural carbonation
Forced carbonation
If you use natural carbonation, you need to use special equipment that retains the CO2 so that you don't need to add it back later in the process. With forced carbonation, the CO2 gets released. Later, you can add CO2 back in manually.
CO2 in beer is essential because it improves the flavor and texture.