What is a Lagunitas IPA? » All Lagunitas IPA in one guide!
India pale ale is a beer style within the broader category of pale ale. An IPA is known for being a hoppy beer. Lagunitas Brewing Company has taken 'hoppy' serious in their brewing of the Lagunitas IPA.
What is a Lagunitas IPA? Lagunitas IPA is an unlimited released India Pale Ale from Lagunitas Brewing Company. This popular beer is brewed with 43 different hops and 65 different malts, which gives this beer a refined and delicious bitterness, just like an IPA should have.
If you want to know more, maybe even everything, about Lagunitas IPA, you have come to the right place. Keep reading this post, as I will go through everything about this incredible beer.
Read Also: Best Beer Recipe Kits
What Hops Are in Lagunitas IPA?
The Lagunitas IPA is a hoppy beer, with nothing less than 43 different hops in it. Of course, we are not supposed to know all of them, but there are 5 of the hops we are certain of:
Horizon
Cascade
Pathetique
Emperor
Eroica
But, what do these hops stand for? you might ask. Let's go through them one-by-one.
Hops are usually divided into three main categories:
Aroma hops have a lower alpha acid percentage and an oil profile associated with good aroma. These hops are generally used as a finishing or conditioning hop.
Bitter hops have a higher alpha acid percentage. These hops are generally used in the boiling process to extract bitterness.
Dual-purpose hops, such as Northern Brewer, have the qualities of both aroma hops and bitter hops and are both aromatic and bittering.
Horizon
Let's take a look at this first hop. A Horizon hop is a Dual-purpose hop. This is the hop that gives the qualities of both aroma hops and bitter hops.
This Horizon hop was created in Oregon in 1970 and is a versatile hop with great qualities. Also, it's a diploid hop and half-sister to Nugget. The Nugget hop will be described in one of the following sections.
The Horizon hop is considered a dual-purpose because of its high alpha acids and low cohumulone. This is a characteristic that is considered highly favorable when bittering.
The Horizon hops high myrcene and farnesene content give it great floral and citrusy aroma and flavor notes, which makes this a very popular hop, especially for specialty beers.
Cascade
The Cascade hop is an aroma hop. The aroma hop is the hop with a lower alpha acid percentage and an oil profile associated with good aroma.
While talking about the Cascade hops, there are three types, so to say: An Australian Cascade hop, an American Cascade hop, and an Argentinian Cascade hop.
The Australian Cascade hop has a different oil balance from other Cascades, and this hop-type is predominantly produced in Tasmania.
The Cascade hops grown in Australia are descended from Fuggle, Serebrianka and wild Native American hops. It also contains all characteristic citrusy, spicy, floral notes of American Cascade hops, but with an additional essence of grapefruit.
Cascades is very popular all over the world. Overall it's a versatile hop that can be used in any ale and is used in many Australian lagers but is mostly used in American pale ales.
American Cascades has, since it was pioneered in the 1950s, become one of the most popular American hops of all time. After it was released in 1972, American Cascade now represents around 10% of all hops grown in the United States.
This American Cascade hops have outstanding vigor and when brewed releases spicy citrus aroma with a hint of grapefruit. Well suited to any ale and lager. The use is especially popular in American pale ales.
Originally, American Cascade hops were developed through open pollination of the English variety Fuggle and the Russian variety Serebrianka.
It is named after Cascade Range mountains that run from northern California all the way north to British Columbia, Canada.
Argentine Cascades has, unlike the American Cascade, a mellow character with notes of pepper, spice, and lemongrass.
It is not considered equally with the American Cascade that has a whole different profile. The Argentine Cascade is a very fine aroma and finishing hop. It is perfect for wheat beers, blondes and has been suggested as being specially suited to lightly bittering a cream ale.
The Argentine Cascade is often compared to Hallertau or Tettnanger.
Pathetique
Pathetique hops are a sort of 'subcategory' to the Cascade hops that are elaborated in the section above.
Emperor
Emperor hops are a sort of 'subcategory' to the Nugget hops.
Nugget hops have high alpha acid content, low beta, and low cohumulone percentages. This gives it a great bittering kick that is very popular in IPA's, Imperials, and other highly hoppy brews.
Emperor hops high myrcene content also results in a green, herbal aroma.
Nugget hop is the daughter of Brewer's Gold and mother of Millennium. It was released in 1983, and by 1987 it was producing 14% of the Pacific Northwest's hops.
Eroica
The Eroica hops is a Bitter hop. Bitter hops have a higher alpha acid percentage. These hops are generally used in the boiling process to extract bitterness.
Despite Eroica hops have a high alpha acid percentage, they are overshadowed by their sister Galena. It appears this comparison is also moving them toward denouement of commercial production along with their cones being considered difficult to harvest.
Developed by both Idaho and Oregon Agricultural Experiment Stations in cooperation with USDA (United States Department of Agriculture), Eroica is directly descended from Brewer's Gold.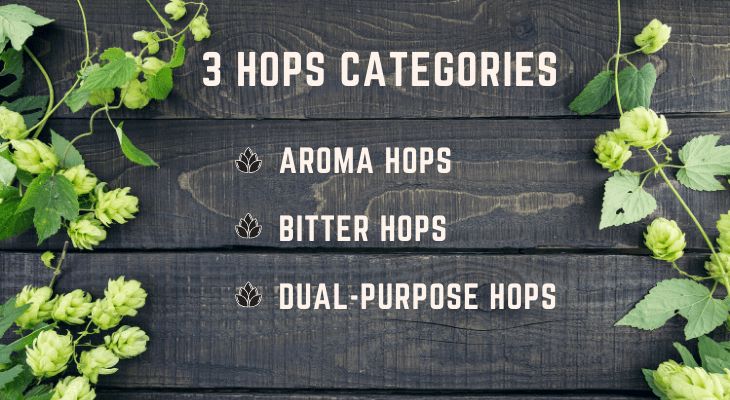 Bitterness
While talking about hops it would also make sense to talk about IBU. IBU stands for International Bittering Units. The IBU-scale measures the bitterness level in beers, based on the number of hops.
However, this scale can be tricky because higher IBU levels don't always equate to bitter flavors.
Bitterness scales attempt to rate the relative bitterness of the beer. The bitterness of the beer is provided by compounds such as humulones, or alpha acids from hops used during brewing.
| | |
| --- | --- |
| Beer style | IBUs |
| Lambic | 0-10 |
| Wheat beer | 8-18 |
| American lager | 8-26 |
| Kölsch | 20-30 |
| Pilsner | 24-44 |
| Porter | 18-50 |
| Bitter | 24-50 |
| Pale ale | 30-50 |
| Stout | 30-90 |
| Barleywine | 34-120 |
| Indian pale ale | 40-120 |
This table shows us the IBUs in different beer types. As we are talking about Lagunitas IPA, which comes with 51.5 IBUs, it's obviously a true India Pale Ale.
But, there is always a but. This scale is different depending on who you ask, however, all scales are relatively close to each other.
Are you more interested in India pale ale? Check out this post about India pale ales, and how they are made: What Is India Pale Ale? & How Is IPA Made?
Is Lagunitas IPA Good?
Lagunitas IPA is not just good, it's great! I mean, at least if you ask me.
By the first sip you take, you just get a taste of citrus upfront followed by some pine flavors. It's not overpowering and it goes well with the pine taste.
I personally don't get a lot of bitterness while drinking the Lagunitas IPA, but that's not a bad thing. Just because I don't taste the bitterness doesn't mean I don't taste the hop. Believe me, I do.
All in all, the beer is really great, and if I had to rate it, I would give it a four out of five.
By looking at other reviews of Lagunitas IPA, the overall description is:
Look: Golden amber, fine bubbles, low head
Smell: Strong hop smell, apples
Taste: Very strong hop flavor, not sweet. Mostly hops and residual hops.
Feel: Medium-heavy mouth feel
Overall: Strong hops and dry overall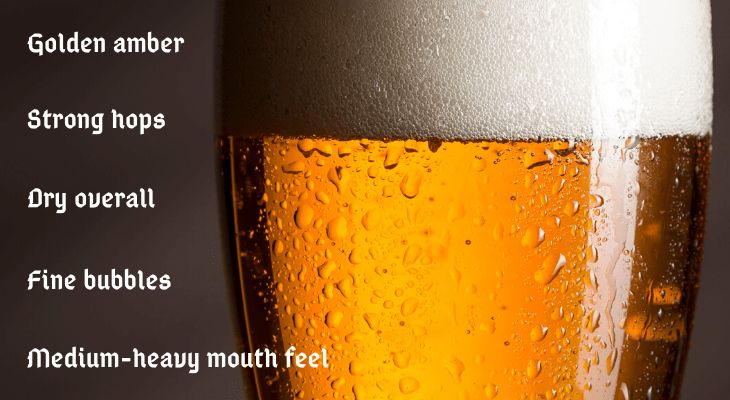 What Percent Is Lagunitas IPA?
Lagunitas IPA has 6.2% ABV, which is actually a pretty standard ABV for an IPA. Typical IPAs have around 4.5 – 7 percent ABV, but some brewers have tried to recreate the original IPAs with an ABV closer to 8 or 9 percent.
Here are 7 well-known and popular IPAs, all with different ABV, to illuminate the distance between them.
New Belgium Voodoo Ranger
ABV: 7%
IBU: 50
Sierra Nevada Torpedo Extra IPA
ABV: 7.2%
IBU: 65
Dogfish Head 60 Minute IPA
ABV:6%
IBU: 60
Lagunitas Hop Stoopid
ABV: 8%
IBU: 102
Victory DirtWolf Double IPA
ABV: 8.7%
IBU: 70
Stone IPA
ABV: 6.9%
IBU:71
Founders All Day IPA
ABV: 4.7%
IBU: 42
So, as you can see all of the IPAs are under 9 percent, and only one of them slips over 8 percent. In other words, they all stay around the general IPA alcohol percent.
If you take the average percent of these 7 beers plus the Lagunitas IPA, it's 6.8 percent which is very close to the Lagunitas IPA ABV on 6.2 percent.
For more knowledge about beer, take a look at this post: How Many Types Of Beers Are There? Get The Complete List!
Where Is Lagunitas IPA Made?
Lagunitas IPA is a product of Lagunitas Brewing Company.
Lagunitas Brewing Company was founded in Lagunitas, California, in 1993. Today it has become a subsidiary of Heineken International.
After the founding in 1993, one year later Lagunitas moved to Petaluma, California, after they were outgrowing their original location.
Lagunitas Brewing Company was considered as a craft brewery and did, in 2013, become the fifth best selling craft brewery in the USA. But, all of this was before Heineken purchased a 50% share in the company. Heineken purchased the remainder of the company in 2017.
What Is the Best Lagunitas Beer?
It all depends. I mean, Lagunitas has more than 20 different beers, some more successful than others.
Lagunitas distinguish between unlimited release, limited release, and one-hitters. And I must say, their best beers so far are from their unlimited release, and they're all IPAs.
Maybe it's just me who's madly in love with IPAs in general, and I wouldn't deny that, but Lagunitas can do something special with their IPAs. A little magic, I would say.
All Lagunitas IPAs
Lagunitas Hop Stoopid
ABV: 8%
IBU: 102The Lagunitas Hop Stoopid is, as the company describes it, "a massively dry-hopped," double IPA. You get what you are promised: malt, yeast, hops, and water.

All this in an era of coffee, artificial lime flavoring. All of this is what you get from the moment you open the 22-oz bottle. This hoppy aroma is almost as intoxicating as the alcohol content, and the mouthfeel is amazing.
Lagunitas IPA
ABV: 6.2%
IBU: 51.5By the first sip you take, you just get a taste of citrus upfront followed by some molten pine. It's not overpowering and it goes well with the pine taste.

I don't get too much of bitterness while drinking the Lagunitas IPA, but that's not a bad thing. Just because I don't taste the bitterness doesn't mean I don't taste the hops. The mouthfeel is just as unbelievably as the ''Hop Stoopid''.

Lagunitas Maximus IPA
ABV: 8.2%
IBU: 72.41This is like a crazy IPA with a seriously hoppy flavor. It has some really nice hop notes that come upfront with citrus notes in the back. It's a perfectly balanced flavor where you can sense light-medium toasted malt.

It's an easily drinkable beer with all of the classic pieces for the style. A hops profile that is so well balanced and a malty body. Overall this is an outstanding piece of work, with everything an IPA should consist of, and more.

Lagunitas Daytime IPA
ABV: 4%
IBU: 31This beer has a light malt sweetness, a strong hop character, it's resinous, piney, light citrus, floral, slightly grassy, lemon zest, grapefruit, and has an intense aroma.

The flavor is balanced, where the hops and the malt is done well. It has a hop flavor similar to the aroma without being too intense.

So, overall, it's a delicious session IPA with a complex, bright hop character, and it's creamy, body-wise for a session IPA. The Bitterness is well balanced but lingers it long enough to be memorable.
So all of these IPAs from Lagunitas Brewing Company are my favorite, but if I should have to choose only the best it would have to be the in this numerical order:
Lagunitas Hop Stoopid
Lagunitas IPA
Lagunitas Maximus IPA
Lagunitas Daytime IPA
But, this is not easy for me, cause all three IPAs are outstanding.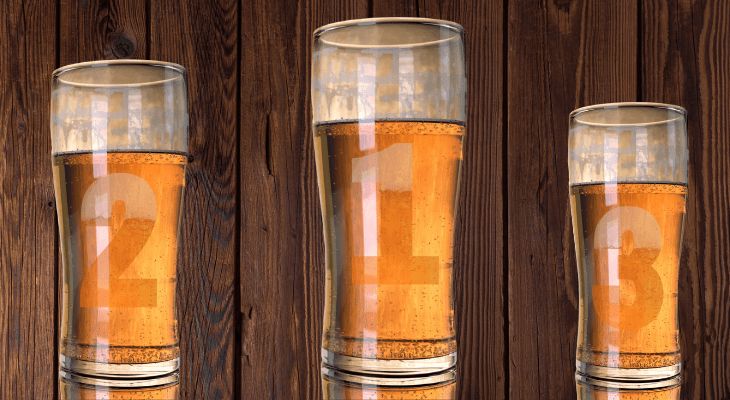 Also read: What Is A Grand Cru Beer?
How Do You Pronounce Lagunitas IPA?
Lagunitas Brewing Company started in an old storage shed in the town of Forest Knolls, California, right next to the town of Lagunitas. Lagunitas is Spanish and means ''small lakes''.
The town acquired this name because of the stream of the Miwok coast. Back in the days, the stream was known as Arroyo de San Geronimo.
Now the "San Geronimo" survives only as of the San Geronimo Creek tributary. The modern name, Lagunitas Creek, is derived from the several "lagunitas" (little lakes).
Tony Magee, the founder of Lagunitas Brewing Company, thought this was a good sounding name for a beer, and decided to call the company Lagunitas.
But, how to pronounce Lagunitas? I mean, after all, it is of Spanish origin, so why not pronounce it with a little Spanish accent? I do. But I don't think there is a right or wrong. Many people pronounce it with the American accent and some with a Spanish accent.
What Does Lagunitas IPA Taste Like?
Like heaven, or at least close
This is what the brewery says about the Lagunitas IPA:
'Lagunitas IPA was formulated with malt and hops working together to balance it all out on your taste buds so you can knock back more than one without wearing yourself out. Big on the aroma with a hoppy-sweet finish that'll leave you wantin' another sip.'
And they don't lie.
Aroma: It has very unique hop flavors of grapefruit and light spice. Also, it has some malt sweetness evident. The hop profile is a bit of citrus, earthy hop character.
Flavor: It has special, funny hop juiciness, with lemongrass, and without too many malt characters, so the hop flavor is in front. The finish is bitter but very balanced.
Overall: A genius, hoppy beer. Bitterness is appropriate, and the malt is definitely present, without being overwhelming. The hops are decidedly American with citrus and pine at the forefront. A very pleasant experience.
So, a Lagunitas IPA taste exactly like an IPA is supposed to taste, but with that little extra.
What Kind of Beer Is Lagunitas?
Lagunitas Brewing Company started in an old storage shed in the town of Forest Knolls, California, right next to the town of Lagunitas, and is founded by Tony Magee in 1993.
Lagunitas Brewing Company brews different beer as:
India Pale Ale
Pils
Pale Ale
Lager Stout
One of their most popular picks, Lagunitas IPA, is also one of its original brews. It launched back in 1995, and its well-rounded, easy-to-drink character has made it a must-have at any craft beer bar ever since.
And anyone can handle the hops in this beer. Wait for the rich hint of caramel malt barley that balances out the flavor.
Enough about the India pale ale? Read this article about Draft beer instead: What Is Draft Beer? And How Is Draft Beer Made?