What Malts Will Add Sweetness to Homebrew Beer?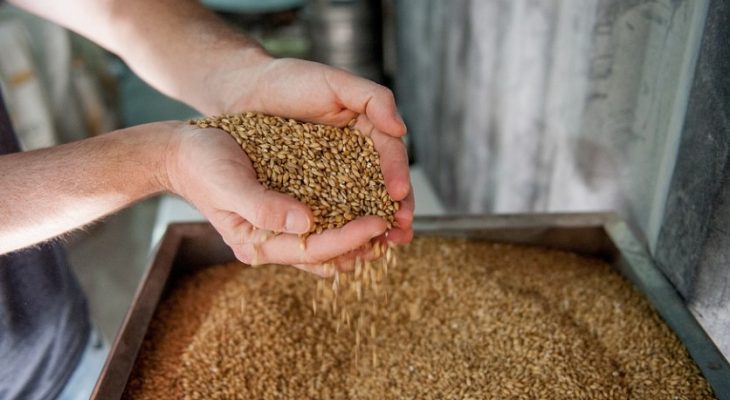 Experimenting with different malts can help you achieve a range of unique tastes. There are various malts that will bring sweetness to your brew, as well as additional interesting flavors.
Caramel and crystal malts will add sweetness to your brew with a rich caramel flavor. You can use them in your malt for 3% to 15%. Bigger quantities will give deeper colors and additional tastes, such as toffee, nut, prune, or raisin.
When choosing the malt to work with, you should keep in mind the end goal for the beer flavor. In this article, I'll discuss the malts that can make your beer sweeter, their unique traits and undertones, and how to choose the one that'll perfectly fit your beer style.
Caramel and Crystal Malts Explained
Caramel and crystal malts are united by their sweetness which makes them stand out among other malt types. You can use them in your malt up to 15%. The more you use, the more sweet undertones your beer will get, but avoid exceeding the specified limit.
Before we dive into details, it's important to get a general idea of what caramel and crystal malts are.
I'll start by saying that they are almost the same thing. Sometimes, these terms actually mean the same thing and are used interchangeably. That's because the two categories do somewhat overlap, but there's still a difference between them.
To avoid confusion, let's clear this up right away. In what ways are these two malt types similar, and what are their key differences?
Crystal malts are those that undergo the process of roasting. Caramel malts include both roasted and kilned malts. In short, caramel malts are a broader category that includes crystal malts.
Both roasting and kilning contribute to the sweet flavors of caramel and crystal malts and produce unique traits in their own slightly different ways.
Roasted vs Kilned Malts
Generally, you'll get more sweetness from roasted malts. They bring intense caramel flavor and often have undertones of dried fruit, such as raisin and prune. Kilned malts, on the other hand, give smoother sweetness and darker colors and are typically malty.
The method used to dry the malts determines the slightly different flavor qualities. Let's take a closer look at each one to see where the sweetness and different undertones come from.
Roasting in its nature is similar to mashing, where the grains are heated to extract sugars. If you want to learn more about mashing, here's a video from HomeBrewAdvice that explains it in under three minutes:
However, water is not added to the roaster, so only the liquid contained inside the grains takes part in the process. As a result, sugars get trapped inside the grains.
Further heat treatment leads to caramelization which brings the sweet caramel flavor to the finished malt. Depending on the timing and heating temperatures, malt can be more or less sweet and give different colors to your beer.
Kilning, on the other hand, produces a unique result, where the level of caramelization differs within one malt.
Unlike roasters, kilns can't provide the same conditions for all the grains that are being dried. Inner layers get more humidity and heat, which allows sugars to do their magic, while the top layers remain dry and can't support temperatures sufficient for caramelization.
Kilned malts end up mixing dry malty grains with sweet ones, which results in less pronounced sweetness in beer and malty, sometimes bready undertones, reminding you of a toast crust.
If you're wondering what grains can be used for malts, I go over all possible options here.
Choosing Your Malt Style
Both styles can produce excellent beers and are loved for their individuality. So how do you pick the one that's best for you?
If you want to add a candy-like sweetness to your beer with refreshing fruit undertones, go for a roasted malt. It's smoothly sweet and can produce sufficiently complex flavors while staying true to your main purpose: bringing in the sugar.
If you're ready to embrace your beer's maltiness and bready nature, kilned malts should be your choice. The sweetness will be less pronounced and complemented by pleasant undertones of nut and bread crust.
If you're looking for ways to sweeten the beer because you struggle with bitterness in your homebrew, this article has some useful tips.
While choosing the malt, pay attention to the temperatures at which it was dried. Some malts work best with dark beers, whereas others can produce wonderful golden color and refresh your pilsner or lager (if you don't know the difference, I explain it in detail here).
Examples of Caramel and Crystal Malts Compared
Now that you know what caramel and crystal malts are, let's take a closer look at some specific examples.
A wide range of malts fall into these two categories, and while they all add a pleasant sweetness to your homebrew, you'll be amazed at how much the end flavor varies.
I've summarized all the relevant information into this helpful table to make it easier for you to glance through the most common options and understand their unique characteristics:
| | | | | |
| --- | --- | --- | --- | --- |
| Name | Malt Style | Flavors | Beer Types | Comments |
| Caramel 60 | Roasted | Pronounced caramel | Stout, pale ale, brown ale, porter | Arguably, the most popular choice. Sweet and simple, it adds body and is used for various beer styles. |
| Caramel 40 | Roasted | Caramel, toffee | Lager, pale ale | Gives smooth sweetness and beautiful golden color. |
| Caramel 120 | Roasted | Bittersweet caramel, prune, raisin | Dark beers | Very pronounced bittersweet taste with varied undertones, gives red color. Works best for dark and complex beers. |
| Special B | Roasted | Pronounced caramel, nuts, chocolate, raisin, prune | Belgian beers, stout, porter, most dark beers | Special B stands out among other roasted malts with its very pronounced sweetness and complex flavors. Adds brown color. |
| Caramel Munich | Kilned | Caramel, nut, bread crust | Dark beers | A classic of kilned malts. Gives a pleasantly sweet taste with nut and bready undertones. Produces rich dark colors, which makes it great for most dark beers. |
| Caramel Vienna | Kilned | Malty, caramel, nut, biscuit, honey | Vienna styles, ale, lager | Another famous classic that combines candy-like sweetness with that of honey and nut. Bready undertones typical for kilned malts create a biscuit flavor. Gives golden color. |
| English Dark | Kilned | Malty, pronounced caramel, toffee | Dark beers | Gives pronounced sweetness and deep red color, perfect for most dark beer styles. |
These are just a few examples of caramel and crystal malts. However, they give you an idea of what you can achieve with various styles. If you're interested in trying even more flavors, here I explain how to add coffee taste to your homebrew.
You can find a great variety of intriguing malts available. I highly recommend experimenting with them to see which ones fit your style best and give the most satisfying results. If you don't notice much difference in flavor between your brews, here I explain the possible reasons.
Conclusion
Kilned or roasted caramel and crystal malts can add sweetness to your beer with a variety of undertones such as toffee, caramel, fruit, nut, and many others. Choose your malt depending on the beer style you're going for and desired flavors.