What is a Grand Cru Beer? » All Grand Cru Beer in one guide!
Have you ever been confused about different beer types or kind of odd terms? You are not the only one. A term like Grand Cru can create some confusion, and I understand why, because of various explanations. But, I am here to take you through all about Grand Cru.
What is a Grand Cru beer? Grand Cru is an old French term and means ''great growth'' and initially started as a wine term. This Grand Cru beer is still too poorly defined to call it an established beer. With that said, there is definitely a clear pattern among the beers labeled Grand Cru.
Are you still confused, or simply just want to know more about Grand Cru? Just read on, as I will go into depth about what a Grand Cru beer is, what Grand Cru wine is, and much, much more.
Read Also: Best Beer Recipe Kits
What Exactly Is a Grand Cru Beer?
It can be hard to explain what a Grand Cru beer exactly is. But, Grand Cru is an old term and is translated to ''great growth''.
Grand Cru was something you, back in the days, called some special, French vineyards that consistently produced superior tasting wines as a result of their excellent location or "terroir." Today the name is also on the labels of the wines from these vineyards.
The name still gives prestige for wines with this label. The consumers for this wine, therefore, expect high quality in the wines. The Grand Cru labels are not only used by a wine producer but is also used by Cognac producers.
Eventually, this term has more dedicated a meaning of ''our very finest''.
Grand Cru in a beer context
Because of the 'success', so to say, the beer brewers has recently appropriated it. And when I say recently, I mean since at least the late 1980s. This term, though, is not regulated as it applies to beer.
This Grand Cru beer is still too poorly defined to call it an established beer. With that said, there is definitely a clear pattern among the beers labeled Grand Cru.
In all general, the comparable characteristics for the so-called 'Grand Cru' beer are the strength, but a still balanced version of a regular-strength beer. Also, these beers are typically only brewed in limited productions.
An early example of a Grand Cru beer was the so-called Belgian Hoegaard. Maybe that's why most Grand Cru labeled beers are Belgian, or Belgian inspired.
Beers with this certain label has a high ABV but gets rid of the bitter alcoholic taste. in other words, these labels have a complex, balanced taste, and some of them are even gently spiced. These beers come with an ABV from 6% to over 10 %
Because this beer comes out of the wine terminology, most of these beers can actually age quite well, and can also reach a pleasant maturity within a few years, if stored properly.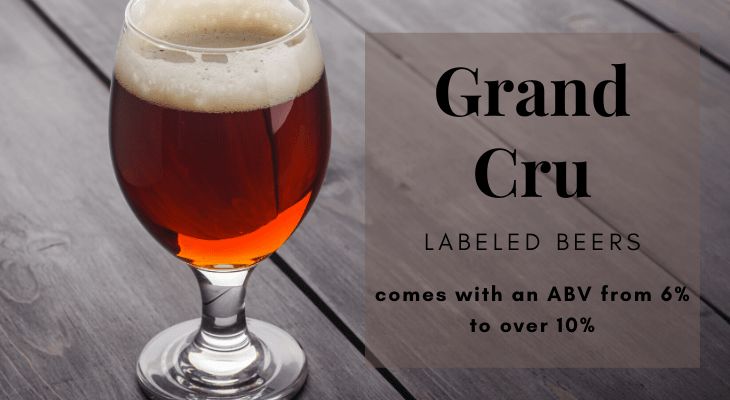 To learn more about beer, read this post: What Is The Difference Between A Porter And A Stout?
Top 15 Grand Cru labeled Beers
Even though the Grand Cru beer isn't a real established beer, there are still several brewers that are making this label. And by several, I mean hundredths of different Grand Cru beer labels.
And I want to share the top 15 best Grand Cru Beers with you guys. So, let's work from the bottom to the top, shall we?
15. Upstream Grand Cru
This is Upstreams best beer so far. The special Belgian yeast that is used in this beer, is the same yeast responsible for the unique character found in Burgundy wines.
The aroma is a strong earthy character, and the flavor has a complexity of citrus, honey, and oak. The beer has 9% ABV.
14. Allagash Grand Cru
Allagash Grand Cru has a beautiful, dark golden color and has a firm, yet refined malty palate. The aroma and the taste has a hint of smoke and licorice. Also, it has subtle hints of spice and fruit. This is a great beer for the cold season, with 7.2% ABV.
13. Abbaye De Saint Bon-Chien, Grand Cru
This Grand Cru is a unique ale. It's aged in wooden casks that, years before, has been used to age Merlot, Merlot Cabernet, Whiskey, and Grappa.
All of this has the purpose to melt together with this beer that gives it a taste of vintage, delicate harmonies, and a taste of wood and its past content. This Grand Cru has 10% ABV.
12. Winterkoninkske Grand Cru
This beer is a dark beer brewed on different dark malts. This results in tones of chocolate, coffee, and sherry. These tastes makes it almost perfect for game dishes and chocolate desserts. With its 13% ABV, this Grand Cru is the strongest winter beer of Limburg.
11. Crooked Stave Origins Grand Cru
This Burgundy sour ale is aged in Leopold Brothers Whiskey Barrels and comes with 6.5% ABV.
10. Crooked Stave Nightmare on Brett Grand Cru
This beer started as a dark, rich beer before aging and souring in Leopold Brothers Maryland Rye and American Small Batch Whiskey Barrels, and comes with 9.6% ABV.
9. Southampton Grand Cru
This award-winning Belgian-style strong ale. The beer is spiced with both sweet and bitter orange peel, coriander and star anise, and has 9.5% ABV
8. Rodenbach Grand Cru
This beer is a mix of young beer, and a more mature beer aged two years in large oak vats. The more mature part of the beer contributes to its fruity taste, complexity, and intensity. This beer has 6% ABV.
7. Ommegang Rouge Grand Cru
This bees is an authentic, flemish, Sour Red Ale brewed in Belgium and imported to the USA. The beer is fermented spontaneously and afterward fermented again, and aged at least 18 months in French oak casks.
It's an unblended Grand Cru-style flemish sour red ale. Draft only, and it's a great pleasurable beer with 5.5% ABV
6. AleSmith Grand Cru
This is a dark chestnut-colored Belgian-style Ale with fruity ester and spicy phenol fermentation aromas.
This beer has a taste of sweet caramel malt, raisin, and plum-like character combined with the complex fermentation of a special Belgian yeast strain. This yeast strain has hints of bittersweet chocolate.
This Grand Cru is meant to be savored and will age nicely, and has 10% ABV.
5. Almanac Farmer's Reserve Grand Cru
This is a funny but deeply fragrant hybrid that captures the Northern Carolina terroir and melts together with the sharpness of a Belgian-inspired sour ale with the sun-ripened boldness of white wine grapes. This beer is perfect for seafood and comes with 10.2% ABV.
4. Abbaye des Rocs Grand Cru 2017
Abbaye des Rocs Grand Cru has a complex fruity aroma of cherry, peaches, golden raisins and assorted dried fruit, and a hint of honey and caramel. Can you feel the many tastes?
Not only that, it has these smooth notes of dried chocolate, roasted almonds, a hint of molasses, and comes with 9.5% ABV.
3. Valley Brew Decadence Grand Cru
The beer is fermented with a combination of lab-cultured Brettanomyces lambicus and naturally occurring Lactobacillus from the locally harvested Pomegranates, and it comes with 12% ABV.
2. Cantillon Saint Lamvinus Grand Cru
Cantillon Saint Lamvinus Grand Cru is a very experimental and provocative pouring, added blended Merlot grapes. This beer was bottled in 2016 and has been served on occasion at the brewery. This beer comes with 5.5% ABV.
1. Lost Abbey The Angels Share Grand Cru
This is my absolute favorite of them all, and I'm not alone with my opinion.
It has a blend of both bourbon and brandy barrel-aged Angel's Share aged in oak barrels from 1-5 years and has 12% ABV. This beer also has sweet notes of sherry and brandy, dates, and a hint of a medium roast.
So, now you have the Grand Cru favorites. That means, that you have absolutely no excuses for not trying some of the best. And I assure you, you will not be disappointed.
Are you also fascinated by home brewing? try out this post: What Every Home Brewer Needs
What Does Grand Cru Mean in Burgundy?
Grand Cru in Burgundy means ''great growth'', and is the highest level in the vineyard classification of Burgundy.
Grand Cru is a regional wine classification, where vineyards that are known for their floral reputation in wine production, is appointed.
This is often used to describe grapes, cognac or wine, but is actually intended as indication for the potential of the vineyards terroirs. And, this is the highest classification level of Appellation of d'origine contrôlée (AOC) -wines from Burgundy or Alsace.
The term is also used on Châteaux in Sain-Émilion. In this region, it's just not an indication of the highest level for wine classification.
In Burgundy, the immediate level under Grand Cru is known as Premier Cru. This term is sometimes written as 1er cru.
History
Let's go back in time to get closer to the old Burgundy wine historie.
The early story of the Burgundian wine bears the mark of the Cistercian's work. Back in the middle age, the catholic church was the most important vineyard owners.
They received land and vineyards as tithes, endowments and as exchanges for indulgences the monks were able to studiously observe the quality of wines from individual plots.
As time went by, the monks began to isolate areas that produced wine of similar aroma, body, color, and vigor and designate them as crus.
Today, every vineyard in the region is part of a hierarchy that runs from grand cru through premier cru and village wine to generic Bourgogne.
The list below gives an overview over Burgundy Grand Cru five largest wine farms
| | | |
| --- | --- | --- |
| Grand Cru | Village | Wine style |
| Chablis Grand Cru | Chablis | White wine |
| Corton | Ladoix-Serrigny | Red and some white wine |
| Corton | Aloxe-Corton | Red and some white wine |
| Corton-Charlemagne | Ladoix-Serrigny | White wine |
| Clos de Vougeot | Vougeot | Red wine |
Is Grand Cru or Premier Cru Better?
Premier Cru is a French wine term and means ''First Growth''. This term is used about special classification vineyards, wineries, and wines, with different meanings and different wine regions.
As mentioned above, Premier Cru is like Grand Crus' little brother. Prime Cru is just a level below the greatest Grand Cru classification, which means, that the Grand Cru, on the paper, is better quality than the Premier Cru.
My own experience is, though, that both easily can appear in almost the same quality. That said, I do have tasted outstanding Grand Cru wines, that almost aren't comparable with any wines, but I have also tasted Premier wines that could be a Grand Cru.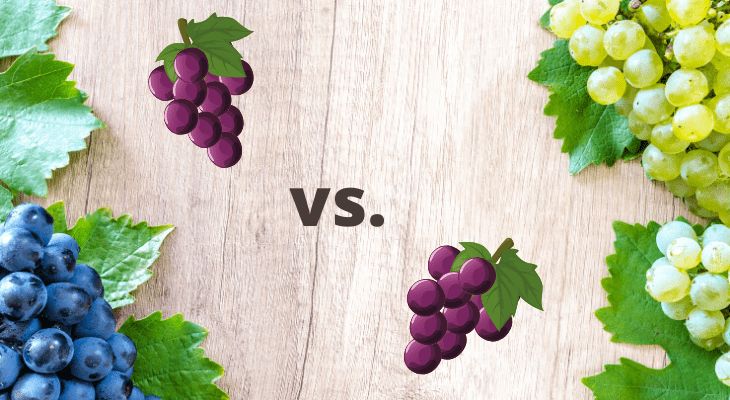 Also read: How Many Types Of Beer Are There?
What does Grand Cru Classe Mean?
Grand Cru Classes originated from the 1850s, where the Emperor Napoleon lll classified that the wines from, among others, Bordeaux should be ranked and given status according to their reputation and vineyards which made exceptional wine throughout many years.
Also, The Grand Cru Classes is known as the Great Classified Growths. Overall, there are five levels of classification called crus or growths. Back in the days the big, famous estates that made the Grand Cru Classe list were:
Château Lafite Rothschild
Château Haut-Brion
Château Latour
Château Margaux
All of them are from the region of Medoc.
This ranking remained unchanged for over one hundred years. Even though many estates had proved themself worth it was first in 1973 that another estate was promoted to a Premier Cru-status.
Most vineyards that were classified under the Grand Cru Classe-system was red, but some white wines were also considered, together with sweet wines.
In other France regions as Burgundy and Alsace, the system was different. It was not only well-known estates but also special vineyards in general, that could be considered.
What Makes Grand Cru Great?
The thing that makes Grand Cru so special is that you have to earn the dignity to be a Grand Cru. As mentioned above, Grand Cru is only the best of the best, and it has taken more than a hundred year for some vineyards to achieve such a status.
So, to deserve the title of a Grand Cru wine there has to be a harmonious combination of several elements. The depth of the roots and age of vines define the intensity of the taste and body of the wine itself.
These factors must then both perfectly match the elevation and how much sunlight the grapes are exposed to, which of course will vary from year to year.
But what they depend upon the most is the terroir, particularly in relation to the type of grape.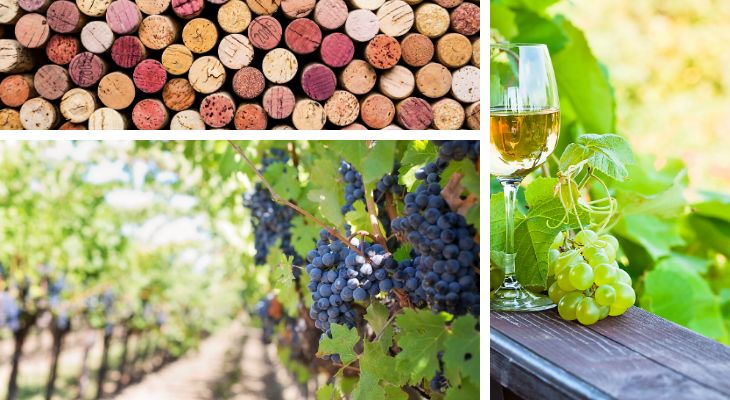 What is Grand Cru Food?
I know, that it might seem a little odd to also call some foods for Grand Cru, right? But, there is a method to this madness.
Like I have written before in this post, Grand Cru originated in France. Back in the days, Grand Cru was something you only called certain French vineyards that consistently produce superior tasting wines as a result of their excellent location or "terroir."
Today the Grand Cru term has become more of a prestige term, if you can call it that. What I'm trying to say is, that While the term grand cru is well defined with respect to vineyards, its used with respect to other products is unregulated.
Today some might also call some certain beers for Grand Cru, because of their characteristics. But, some also call high-quality foods as chocolate, cigars or coffee for Grand Cru.
Chocolate
Because of the global competition, French chocolatiers began, in the 1918's, to call some of their chocolates for Grand cru, because of the reputation of the term. Another term they also used for their chocolate was ''vintage''.
Since Grand Cru was introduced, another classifications have appeared, the Primary Cru. This term indicates that the cocoa in a bar comes from a certain area in a country or a plantation.
A Premier Cru chocolate is typically considered to be of higher quality than the Grand Cru.
This contrasts with the wine terms, where Grand Cru wine is higher quality that Primary Cru.
Coffee
Nespresso has used the term Grand Cru to refer to the flavors of its coffee capsules. They have 24 Nespresso Grand cru capsules that are split into six ranges:
Espresso capsules are shorter coffee. But, just because they are shot coffee does not necessarily mean they're strong.
Intense capsules have split up and contain some of the fuller flavors. These are often blended in their origins.
Pure Origin capsules have typically their beans sourced from one location and have a very unique flavor.
Lungo capsules are designed for larger cups of coffee, where more water is added.
Decaffeinato capsules are some of the greatest tastes, but with the natural appearing coffeeing taken away.
Variation capsules are typically based on the Lungo capsule, but with a little extra flavor added.
Also read: What Does Bad Coffee Taste Like?
What is Grande Champagne Cognac?
Cognac Grande champagne is Cognac brandy that are made from the vineyards, and are the most respected of the six Cognac districts (crus). These six surrounds Cognac town.
This name often leads to confusion because many think, that this belongs to the sparkling wine region, Champagne. This contains a lot of place names dotted all over France, including the Champagne wine region and the Grand Champagne brandy district.
Grand Champagne is located south of the Cognac town and lays between the river Charente and its tributary, the Né.
Grand Champagne terroir
This is characterized by a maritime climate and chalky soils with a lot of lime and sandstone. These fine, white soils is often mentioned as a reason for the particular elegance of Grande Champagne Cognac.
Just like the other five cru-zones in the cognac region, a Grande Champagne base wine bled contain at least 90 percent of Ugni Blanc Colombard and Folle Blanche grapes.
The Eaux-de-vie have complex, fruity floral aromas. These are famous for their balance of intensity and elegance. It takes many years for a cognac to evolve in an oak barrel. Typically it takes around 20 to 30 years.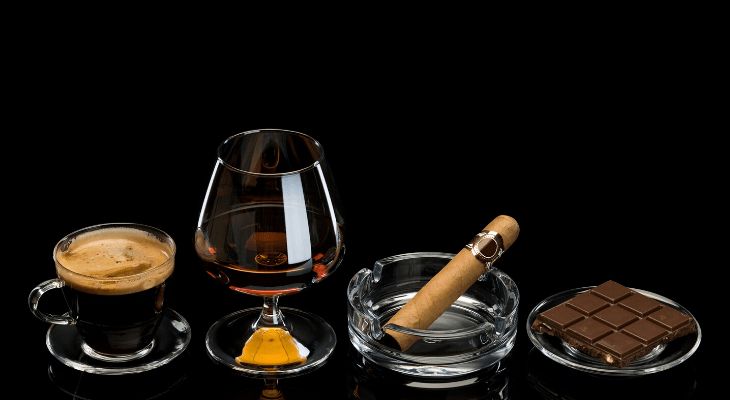 Top 10 Most Popular Cognac Grand Champagne
I now give you a list over the 10 most popular Cognac Grand Champagnes. In this list I have based by ranking considering both the price and the taste of these Grand Champagne Cognacs.
Courvoisier X.O. Imperial
Pierre Ferrand 1er Cru de Cognac Ambre
Frapin VIP X.O.
Hennessy 50 Anniversary Edition X.O.
Hine Grande
Delamain Vintage
Remy Martin Vintage
Lheraud Vintage
Louis XIII de Remy Martin Black Pearl
Louis XIII de Remy Martin
All the Grand Champagne Cognacs comes from France and are made of the Brandy grape.
Read Also: What Is The Easiest Type Of Beer To Brew?