What is Sweet Beer? (The Complete Guide to Sweet Beers)
While being a home brewer there is a lot of different terms to relate to. And once in a while, you can doubt the validity of the terms, right? But of course, there is something to it, so I think we need to dig a little deeper into this sweet beer to find out the actual definition.
After all, there is a lot of different opinions out there. And since there isn't really an overall description of what makes a beer a sweet beer, I think we should try to draw parallels between the different statements, and conclude out of that. Shall we?
What is sweet beer? A sweet beer is a beer without too much of the beer taste. So, It certainly is considered a beer, because it's brewed like other beers, it just has a milder beer taste. The sweet beer also goes under names as ''dessert beer'' and ''girly beer''.
Keep reading, as I will take you through the complete guide to sweet beers.
Read also: What Does Beer Taste Like?

What Is a Good Sweet Beer?
There is a lot of good sweet beers. There is also a lot of not so good sweet beers. Just like every other beer type. Though, I wouldn't really call sweet beer a decidedly beer type.
Sweet beer is different beer types that all taste a little less like beer. For example, an ale and a pale lager can both be a sweet beer, as long as they don't taste too much of beer, then it's a sweet beer.
But, what is a good sweet beer? I can't tell you. It's very individual, just like it's very individual what good beer is in general. Of course, some are given better reviews than others, but the sweet beer is a wide gap.
Sweet beer is all from a Corona beer with lime to a decidedly fruit beer.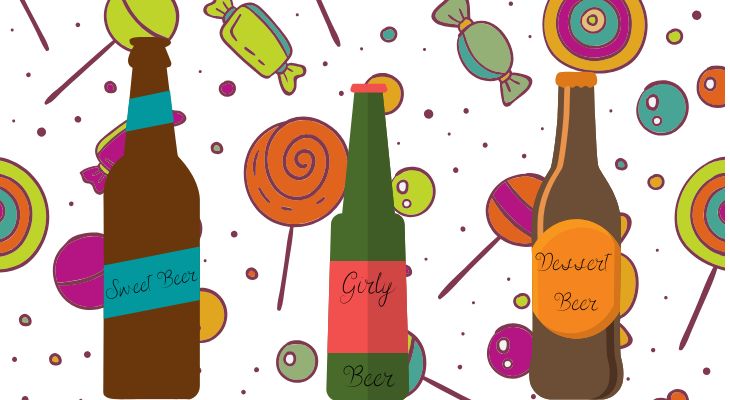 Also read: What Is A Saison Beer
To give you an insight into which kinds of beers are sweet beers, girly beers, or dessert beers, here is a fraction of the sweet beers:
Bud Light Lime
Bud Light Lime is a Light Beer, Pale Lager with 4.2% ABV. This beer has a natural lime flavor which quickly made this beer a hot seller after its inception in 2008, a has been called ''the atomic bomb in the marketplace.'' And it's not hard to see why.
This sweet beer has found its mark, especially in America's taste for sweet drinks.
This sweet beer is not much like beer. It's more refreshing in a soda kind of way, and it's very sweet. So, if you really don't like the beer taste, you should drink a beer like Bud Light Lime. As an alcoholic, candy-flavored club soda goes, this is great, though, it is a sweet beer.
Bud Light Orange
The Bud Light Orange is a descendant of Bud Light Lime, which entered the market in 2008. Ten years later, this sweet beer sent from heaven entered the market, however, with divided opinions.
This sweet beer is brewed with real orange peel, so you can really taste the citrusness. The beer has 4.2% ABV, and has a pervasive taste of orange, without overruling the beer taste entirely.
Blue Moon Belgian White
Another sweet beer with a hint of orange. However, this beer is more a beer than the two sweet beers in the above. It is a witbier that comes with 5.4% ABV.
The reason why I would call this a sweet beer, is because of the less beer taste, and some orange taste, which makes this beer easy to drink, even if you don't like the beer taste that much.
There is a lot of orange notes coming through, with spicy pepper and coriander aromas. Also, it has hints of coriander, which is a funny little thing. It has a good balance of orange sweetness with a peppery and spicy flavor.
This beer is a good example of a sweet beer. There is the beer flavor, but not too heavy, and then the taste of orange, which is just the icing on the cake. Beer lovers might say it is too heavy or too sweet.
But, if you like sweet beer more than you like a heavy beer, this is a beer for you. It has this refreshing, complex take on a wit. Spices and sweetness carry through. Good balance of citrus and spice, delicious.
Dundee Original Honey Brown
The Honey Brown Lager brewed by Dundee Brewing Company is a red lager with an ABV of 4.5%. It pours out a nice light brown color with a nice white head. It has a light and bold smell, but you can easily pick up grains and malts in the smell.
Also, the smell has a certain sweetness to it. The taste is smooth and rich, and you can easily pick up the grains and the malt in the taste of this brew. Also, there is a nice, sweet malt aftertaste, and the mouthfeel is rich, bold and full of flavor.
Dundee Original Honey Brown has a nice balance without anything overpowering this brew. Overall, Dundee Original Honey Brown is a good drinkable brew. I like how smooth this full-bodied beer goes down.
Schöfferhofer Hefeweizen Grapefruit
This sweet beer is a combination of Schöfferhofer Hefeweizen and grapefruit flavoring. Which is actually pretty well-made, and very drinkable. It is sweet, slightly cloying, and has a solid natural flavor of grapefruit juice and peel.
The orange color lets you know exactly what this sweet beer's intention is. And it lives up to all the expectations. It is an alcoholic soda with a light hefe base, which just makes the fruity taste more notable.
Also, there is a great balance between sweetness and grapefruit citrusy. The same intensity in the sweetness and the grapefruit citrus plays off each other, with the sweetness is finished in a distinctly rich, citric flavor.
DuClaw For Pete's Sake – Imperial Chocolate Peanut Butter Porter
For Pete's Sake is a Porter with 9% ABV. It's another version of Sweet Baby Jesus! Chocolate Peanut Butter Porter.
It really does taste of chocolate and peanut butter, a lot. This beer is surprisingly easy to drink considering its strength. Also, this balance between the chocolate and the peanut butter is really good performed.
Definitely a try worthy. There is not much beer flavor in this sweet beer, so if you're a sweet beer person, you might want to try this one out.
Hoegaarden Original White Ale
Hoegaarden Original White Ale is a Belgian-style wheat beer with 4.9% ABV.
This sweet beer is a bit like the Blue Moon Beer. Hoegaarden Original White ale is also brewed with orange peel, coriander, and spices. So, it's only a bit like Blue Moon, without being similar, at all.
This beer took more than 500 years of hard work to complete. Besides the orange peel and coriander flavor, this bee also has a hint of herbs, that the monks imported from Curacao, back in the days.
The beer is yellow and naturally murky, and its soft foam adds a cloudy finish. Then there is the soft taste, light and sweet and sour, and with subtle citrusy notes. All in all, this beer is perfect for a sweet beer lover.
Kronenbourg 1664 Blanc
Kronenbourg 1664 Blanc was launched in 2006 and is today one of France's most popular wheat beer. It's brewed in the style of Belgian wheat beer that is called Blanc in French. Though, this beer has its own profile with a more sweet and round fill.
The beer appears cloudy and white-golden with a fresh sourly flavor and an aroma of citrus and sweet fruitiness. All this combined makes it the absolute perfect summer beer.
Kronenbourg Brewery er France's biggest brewery, founded in 1664 by Jérôme Hatt in Strasbourg.
Today it is owned by Carlsberg Brewery. Carlsberg took over the company in accordance with a partial takeover of Scottish & Newcastle in 2008. Before that, Kronenbourg Brewery was owned by Danone until 2000.
Kronenbourg brewery is in Obernai, therefor they also stand for the production of the brewery group's other French beer brands.
Corona Extra
Corona is one of the most known names in the beer world today, and Corona Extra is one of the reasons why. It is number 1 on the best-selling imports in the U.S. market, and I can see why.
Corona Extra is an American-style pale lager with 4.6% ABV. This beer is considered a sweet beer, without too much taste. But, that's why we have the lime. No matter where you have a Corona served, it is always served with a lime.
There is not really a conclusively answer to the lime thing, but one thing is sure, it adds a great, refreshingly flavor to the beer.
The Corona Extra is a typical American lager. It has a pale straw, very clear color and a medium white head. You easily captures a light scent of hops.
Samuel Smith's Organic Chocolate Stout
Organic Chocolate Stout is brewed by the independent British brewery, Samuel Smith's Old Brewery in Tadcaster, North Yorkshire, England. This brewery is the oldest brewery in Yorkshire founded in 1758.
But, enough about the brewery, let's focus on the sweet chocolate stout.
This beer has a very smooth and very creamy one of its kind. Almost like adult chocolate milk. You easily sense the vanilla and the chocolate, which gives the beer its sweetness.
It's a very sweet beer and has a lot of other aromas than just the vanilla and the chocolate. The beer also has fruit, coconut, and cherry aromas, with some roast and a small floral hops presence. It all gives a clean balance to a very smooth finish.
It's a very easy drinkable beer with 5% ABV. A great beer for you who like a sweet stout that really showcases chocolate, cream, and slight vanilla.
There you have it. 10 beautiful examples of what a sweet beer is. All 10 beers are worth a try if you like sweet beers.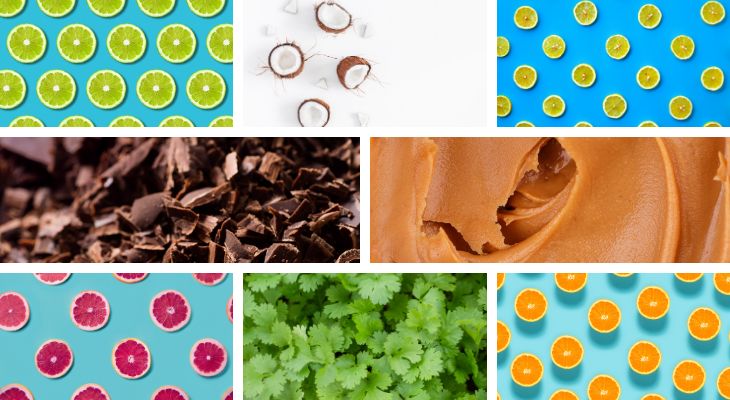 Would you like to know more about other beer types? then read this post: How Many Types Of Beer Are There?
What Is a Good Fruity Beer?
It's not easy to make fruit beer that tastes very beer-like, and less soft drink-like. Most fruit beer becomes very fruity, which some like it the best. But, if you would like a very good fruit beer, it should have the perfect balance between fruit and beer flavor.
Most fruit beers are craft beers, and craft beers have always been about experimentation. Mostly American craft brewers have no fear. I mean, there have been some pretty crazy outcomes craft brews, right? But, maybe that's not such a bad thing.
Do you want to give it a try? Find an electric brewing system for you and start brewing.
There has come a lot of good beer out of it too, and the latest is the fruit beer. And the really good ones aren't sickly sweet or artificial tasting. The once who's catching my attention are the more bitter ones, tart, and complex.
These are to be found in many embodiments. From IPA's to sour ales. They might be brewed with hops with a fruity aroma, extracts, or fresh fruit. But, as I mentioned above, it's not easy making a great and balanced fruit beer.
It's this challenge that fuels the craft brewers. But, thanks to all the brewers who took up the challenge!
Here are three good fruit beers you should definitely try this summer:
#3 Sonoma Tart
Sonoma Tart pours a deep, cloudy yellow with a lasting white head. The aroma has both hints of passion fruit and guava. The flavor is very fruity. There are flavors of guava, mango, light pineapple, and candied orange.
Sonoma Tart is a very well balanced and fruity sweet beer. such a fruity beer would often end up more like a fruit drink, but not this one. Even though it is so fruity, you are not questioning the beer taste, cause it's definitely there.
This beer would be perfect for a hot summer day!
#2 Frambozen
Great, great beer!
The aroma of this beer is fruity and with dominating raspberry, hints of tartness, woody pith, and sweetness. It has a nice, interesting pale burnt orange with some haze and almost no head from the bubbles continually rising from the bottom of the beer glass.
The raspberry flavor in this beer is strong, without being overpowering the beer, at all. Other flavors are pithy extractions from the seeds. Also, hints of wild yeast funk is to be found.
The mouthfeel of the beer is dry, but the aforementioned acid gives the beer a good balance. All in all, this beer is great and is not afraid of trying off both the raspberry and the wild yeast together.
#1 Hanssens Oude Kriek
This beer pours a deep, rusty, reddish-brown color and throws a small, lacy head. The aromas are clear: Almond, ripe cherry and gentle sourness. The aroma and the depth in the beer will get more clear the more it's allowed to age.
The aroma of this fruit beer is pretty complex, brimming with mustiness, bright acidity, and an appealing fruitiness. As you might wanna expect of a vintage kriek, the flavor abounded with deep, brooding dark cherry, dry almond notes, and some sourness.
This beer is in its largely a true classic. It's nothing less than a genius brew.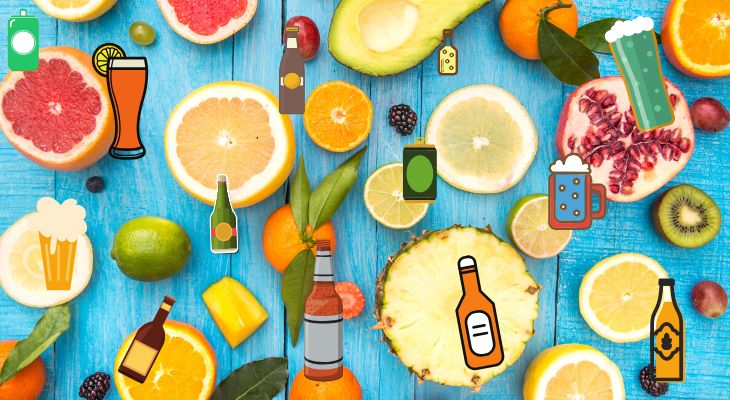 Try out this post: What Is Draft Beer?
What Is a Sweet Ale?
Ale is a beer type brewed using a warm fermentation method. This method results in a full-boiled, fruity, and sweet taste. This means that ales, in all general, often are sweeter than other beer types.
But, what is a Sweet Ale? A sweet ale is like other sweet beers. Sweet beer comes out of almost all beer types, also ales. So, sweet ale beer is an ale with less beer taste than other ales and often comes with a fruity taste too.
How Do You Make Beer Taste Sweet?
There are different reasons why some would want to sweeten up their beer. Some simply just want a more sweet beer instead of a more dry beer, and some just sweeten up their beer to balance out the bitterness of the hops.
But, it's not possible to just add simple sugar to a beer to sweeten it up. While adding simple sugar to the brew, the yeast will just consume the sugar and turn it into alcohol. But there are other ways to sweeten up your beer.
I addition, read this post to get a better understanding: Does Adding Sugar To Beer Make It Stronger?
Here are 3 tips that easily can help to make your beer sweeter:
1. Longer boil
If you boil the brew for a longer time you will cause a chemical reaction. This is called the Maillard reaction and is often confused with caramelization. An intense boil can produce some sweet caramel flavors to the beer.
2. Caramel malt
To make a more sweet beer caramel malt are a saint. But be careful with the use of this malt, it can easily get way too sweet, and nobody wants a disgustingly sweet beer.
3. Unfermentable sugar
The use of unfermentable sugar is also a great solution to make beer sweet. Lactose sugar is one of the most popular sugar for this. It's also a key ingredient in a milk stout.
Read this article to get knowledge about most sugars used in brewing: The Unrivaled Guide To Understanding Maltose
Of course, there are many other methods to use when sweetening your beer, but these three are easy to perform.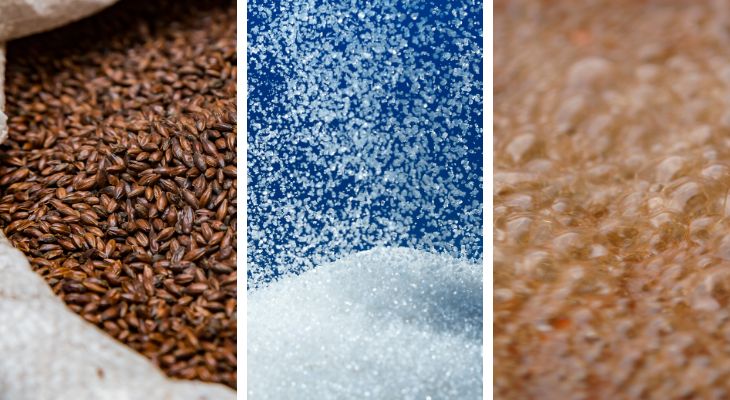 Also read: What Every Home Brewer Needs
Can You Mix Beer And Coke?
You can mix everything, but that doesn't mean it taste good or even are drinkable. Some really do think that coke tastes good in some specific beers, and I don't say they're wrong, I just say to each his own.
So, some actually do drink beer and coke combined, but not all beers turn out good with coke. Give it a try with some different beer types and styles to see which one you like the most, who knows, maybe you'll like it?