What is a Brut IPA?» All in one guide!
This completely new IPA is emerging everywhere. Brut IPA is the big new trend in the world of hoppy beers. Most of you know Brut from the wine world, but i will explain what this exciting beer is in one guide!
What is a Brut IPA? A Brut IPA is a bone dry, fizzy, champagne-like and light bodied beer with plenty of hop aromatics. This new style of IPA is named after the word "brut" used in the champagne world to describe how dry the wine is.
If you are interested in beer and champagne you would want to keep reading as i will explain everything about Brut IPA in one guide!
Read Also: What Is The Easiest Type Of Beer To Brew?
What is Brut IPA?
The style is originally from San Francisco's Social Kitchen and Brewing and was named "brut" for its extreme dryness. The inventor of this style, Kim Sturdavant, had been using the enzyme amyloglucosidase on his triple IPA to help reduce the sugars found in the beer.
While brewing his triple IPAs he had the idea of adding this enzyme to his regular IPAs to create a beer without any residual sugars. The result was a bone dry, fizzy, champagne-like and light bodied beer with super- aromatics.
Because a Brut IPA has very little malt backbone, it is very important the brewer isn't putting the beer out of balance with too much bitterness.
My investigation of the Brut IPA has definitely converted me into a believer. I have always loved drinking regular IPAs, but i think i've gotten myself a new friend in the beer world.
What is an IPA?
IPA stands for India Pale Ale, which is a beer that is renowned for its very hoppy taste. The beer was shipped to India so that the british people could drink beer while colonizing the world. It is probably the most popular craft beer.
The Brut IPA is not as potent as the regular IPA, and therefore could go under the style of Session IPA. If you want to read more about IPA you should check out blog post about IPA: What is India Pale Ale?
What is AMG (amyloglucosidase)?
The enzyme amyloglucosidase has been used in brewing for quite some time now. It has the ability to break down sugars that might not ferment allowing the yeast to eat some more sugar during fermentation. This method has been used for very strong beers such as the imperial stout so that they aren't as sweet.
This enzyme is obtained from a selected strain of the fungus Aspergillus niger. AMG or amyloglucosidase removes glucose unites from liquefied starch in a stepwise manner, producing glucose
Who created Brut IPA?
By all accounts, it was created by Kim Sturdavant, who is the brewmaster of Social Kitchen and Brewery in San Francisco.
He had been experiencing with the enzyme amyloglucosidase, which is used to break down sugars in the brewing process and has traditionally been used to lighten the body in alcohol-heavy beers, such as the imperial stout.
In 2017, Sturdavant added AMG to a tradition IPA, and the result was bone dry, slight hazy and 0 degrees Plato, which means there are no residual sugar left in the beer.
What is the Plato scale?
The Plato Gravity is a measurement of concentrated dissolved solids in a brewery wort. Degrees Plato (°P) is used to quantify the concentration of extract. In this case it is mainly sugars that has been derived from malt. A 10°P wort will contain 10 g of extract per 100 g of wort. The measurement of wort gravity is important to brewers, as it is the indicator of the potential strength of the beer.
A very rough guide or measurement advice is that every 1°P generates approximately 0.4% alcohol by volume. A 12°P wort will produce an average of approximately 5% alcohol by volume.
The Plato is different from the Balling scale in that the measurement of the specific gravity used to determine the dissolved solids content is carried out at 20°C for the Plato scale and 17.5°C for the Balling Scale. Brewers and home brewers measures the degrees Plato using either a calibrated refractometer or a hydrometer.
If you want to read more about refractometers and hydrometers, please more here: Refractometer vs Hydrometer
What Does a Brut IPA Taste Like?
The Brut IPA borrows its name from the wine world; in champagne, brut means very dry, and so too with the Brut IPA.
The trend has only been in existence for a short time, so it can't be defined as a type of style, however, there's still a few hallmarks. It's pale, it's bone dry, it's highly bubbly. Boiled down; It is as close to champagne as an IPA can be.
Look: Pale to yellow in color. Somehow large foam head that quickly recedes.
Aroma: The aromas can go from fruity, citrusy to a somehow funky and sweet like a cider or a very cheap champagne.
Taste: Fuzzy, fresh, fruity, floral hoppy notes and sometimes sweet, but almost always very dry.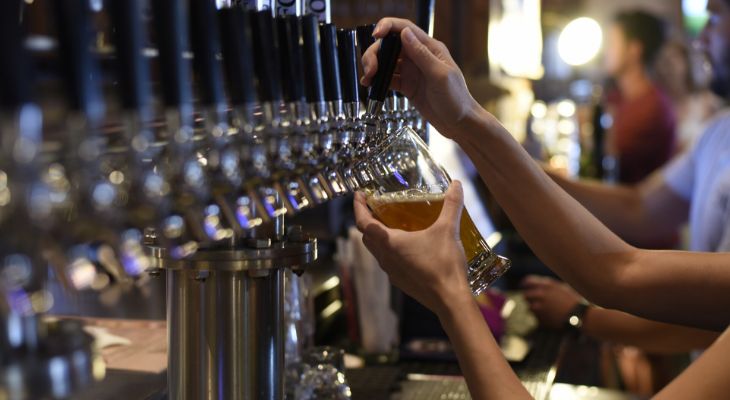 How to Brew Brut IPA At Home?
After reading this blogpost i thought you might want to try and craft your own Brut IPA. I have used the creators own recipe of this exciting beer before, and i want you all to have the same feeling of accomplishment as i did!
This recipe is All-Grain
Info and "Need-to-brew"
Batch size: 5 gallons (19 liters)
Brewhouse efficiency: 72%
Original gravity: 1.054
Final gravity: 0
International Bitter Units: 25
Alcohol by Volume: 7%
Malt/grain bill
8 lb Pilsner malt
1 lb flaked corn
1 lb flaked rice
Hops and additions schedule
.17 oz Mosaic [12.25% AA] at 15 minutes
2.5 oz Mosaic [12.25% AA] at Whirlpool
7.5 oz Mosaic [12.25% AA] at Dry Hop
Yeast
Neutral Ale yeast
.65 ml Amyloglucosidase
Brewers notes
You will need to add the enzyme in the mash and shoot for a mash temperature of 143°-146° degrees to not denature the enzyme. The equivalent of 20mls of grain is enough. Add the amyloglucosidase a third way into the mash to ensure the mash isn't too hot to denature the enzyme. Stir very well and let the mash have an hour-long rest to let the enzyme do its work.
You can also add the enzyme to the kettle while lautering, then hold the kettle off the heater until all wort is in and has 30 minutes of contact with the enzyme at around 145°
A lot of homebrewers, myself included, just throw the grain on top of the mash water – The creator of this beer prefers not to mash this way. He thinks that adding grain and water at the same time gives the conversion temperature more consistency
The enzyme will denature in the boil, and it has already done its work. Kim Sturdavant finds better results with fermentation character and hop aromatics by having no amyloglucosidase in the fermentation.
At last you want to add a nutrient in the boil as well as halfway through the fermentation, since there won't be as much nutrition for the yeast to work with.
If you are willing try to it yourself, please do not skip out on this blog! What Every Homebrewer Needs
Are Brut IPAs low carb?
The healthy, diet-crazy, "I-Can't-Drink-Beers" time is over us, and a lot of people are asking if Brut IPAs are low carbs or are they healthy? The Brut IPA has a pretty marketable trait. Their calorie and carb levels are much lower than any comparable beers.
Not every beer drinker attempting to cut back on calories and carbs wants to drink flavorless beer. Fans of flavorful craft beers doesn't need to make any compromise.
Beneath I've made a table with some Brut IPAs and their nutritional levels.
| | | |
| --- | --- | --- |
| Name | Calories | Carbs |
| Sierra Nevada Brewing Co. Brut IPA | 156 | 8,5g |
| Ommegang Brut IPA | 140 | >4g |
| Kiitos Brewing Session Brut IPA | 97 | 4g |
Don't worry if you are dieting. You can easily enjoy a Brut IPA now and then!
Top 10 Brut IPA labeled beers
Brut IPA may not be a established style of IPA yet, but the "style" and method is ever growing, and therefore I've made a top ten over my personal favourite Brut IPA labeled beers!
#1 New Belgium Brewing Co. Brut IPA
This 30-year-old brewery has released a Brut IPA as the first release in a new series of craft beers. The beer was inspired by IPA drinkers constant search for fresh new flavors. This beer weighs in at 6.7% alcohol by volume. Aromatics are dry, lemony fruity notes. Taste are dry, with bitter pine, crisp and perfect carbonation.
#2 Sierra Nevada Brewing Co. Brut IPA
Sierra Nevada has taken a more citrusy approach with this Brut IPA. This version features a nice pop of citrus that works well as a easter refresher. The nose is light with citrus and grassy hops. The first sip is bright and sparkly with fresh notes of citrus and pine. Perfect balance between fresh and bitter.
#3 Ska Moral Panic Brut IPA
This brewery has created a well-received tropical take on the style. It is an easy-drinker at only 5.75% alcohol by volume. My favorite thing about this beer is that is available in cans, making it very transportable to whatever arrangement you might have. Fruity and citrus notes has the perfect balance in this Brut IPA. Carbonation gives the beer a nice fizz. Easy drinkable.
#4 Drake's Brewing Co. Brightside Extra Brut IPA
One of the first movers to rise to the challenge of the Brut IPA. Since the first one was released the brewery kept trying to create multiple versions of this beer. This Brut IPA lets the hops shine in a wholly unique way. It highlights a piney, citrusy hop profile. This beer sits at 7% alcohol by average and has zero international business units.
#5 Sixpoint Brewery Sparkler
This brewery based in Brooklyn has created an extra crisp, extra dry, semi-tart Brut IPA with the light body of a ballerina and a candy-like tropical aroma. It's refreshing and juicy, and a pretty good entry Brut IPA, if you haven't tried it yet.
#6 Devils Backbone Brewing Co. Brut IPA
Devils Backbone has created this Brut IPA that has a light body win a clean, dry palate. Thanks to the Amarillo and Hallertau Blanc hops it has citrus and grape notes that gives this beer some life. It has bubbles, it's sparkly and it is low carb!
#7 Short's Brewing Juicy Brut
Short's version of the BRut IPA is a more sessionable take on this particular style. With an alcohol by volume of 4.2% this beer is lighter than most on this list. It has the best of both hop juiciness and brut dryness, yet still maintain a relentless tropical aroma. A very easy-drinking beer with loads of flavor and character.
#8 Brewery Ommegang Brut IPA
Ommegang Brut IPA is brewed with pilsner malt, flaked corn, and is both hopped and dry hopped with Mandarina Bavaria, Calypso and Citra. This beer is different from most of the beers on this list, because it has been conditioned for two weeks to achieve high levels of carbonation. Aromas of dank pine, grape and pineapple and a crisp, dry finish.
#9 Brewdog Walking Dead Rambling Society Brut IPA
This beer from Brewdog with an alcohol by volume of 6% is boneyard dry, hence the name, with a biscuit malt base. It has a sauvignon blanc and fruity flavor profile. This dry beer has notes of fruit. A fruity, dry and crisp beer, and bitterness to balance the flavors out.
#10 To Øl Trocken Brut IPA
Trocken is To Øls german style Brut IPA with an alcohol by volume of 6%. This Brut IPA is brewed with the finest German Pilsner and Munich malts. German Cascade hop and Kölsch yeast are the base of this beer. You will find a very aromatic beer with a citrus taste and a short aggressive finish. This beer is a very smooth and refreshing Brut IPA.