What is a Spotted Cow? » All Spotted Cow in one guide!
If you have been lingering around the beer forums you might have stumbled upon a mysterious beer called Spotted Cow and you wondered: Why is a beer called Spotted Cow? In this blog post i will try to explain what Spotted Cow is in one guide!
What is a Spotted Cow? Spotted Cow is a cask conditioned unfiltered farmhouse ale with an ABV of 5.1% produced by New Glarus Brewing Co. Spotted Cow has become the brewery flagship beer. The beer has won several awards and therefore reached legendary status.
If you want to know more about this amazing beer, you have clicked on the right article! It'll might even contain a home brew recipe for Spotted Cow, and some facts about the history and German purity law!
Read Also: Best Beer Recipe Kits
What is a Spotted Cow?
The famous Spotted Cow beer is a farmhouse ale inspired by what the early German settlers used to brew when they first arrived to America. It is the flagship beer from New Glarus Brewing Co.
The beer is a blend of PIlsner malt, white wheat and caramel malt. The water comes from the well at the brewery property and has a hard character to it. The hops used for Spotted Cow are the noble Saaz hops, which is collected during selection each year and a German ale yeast.
The beer has often been labeled a cream ale, but since Spotted Cow is an unfiltered beer, the style guidelines don't fit, so at the brewery, they just call it a farmhouse ale.
Dan Carey, the creator of the beer came up with the idea after visiting a museum where he saw a German farmhouse with a beer bubbling on the stove, covered in cheesecloth. That made him think about the 1850's and how the immigrants from Germany and their likely desire for beer.
Germany Purity Law
The Spotted Cow is brewed under the world-famous purity law from Germany. German beer has been brewed in accordance with the purity law for more than 500 years only using the four ingredients prescribed within this law. This led to German brewers creating a diversity of beer that is unmatched anywhere in the world.
The purity law requires that nothing other than barley, hops and water is to be used when producing beer. You might think to yourself now: "Wait a minute, I know there is yeast in beer, why isn't yeast in the law of purity?" Well, the answer is quite straightforward. In 1516 the importance of yeast in beer was known, and therefore was added later. The law became governing for all beer breweries in Germany in 1906.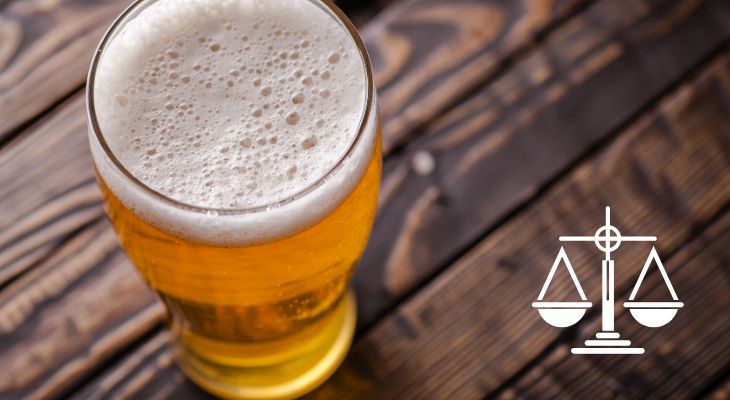 How many calories is in Spotted Cow?
Clearly, "cow" is the last thing you would want a beer to be named if you are worried about calorie intakes when drinking beer. The Spotted Cow has 150 calories and an ABV to compliment that amount of 5.1% ABV. It also sits at 37g of carbs. You can argue that the spotted cow is a "light" beer, because it is a craft beer.
If you are still worried after drinking this beer, I can tell you that it will take just 15 minutes of running (Or 55 minutes of cleaning your house) to burn 150 calories. There is no excuse to not have another one!
What is a Farmhouse Ale?
The Farmhouse ale originates from the rolling hills of France and Belgium. This beer style isn't just a single beer style, but has a set of styles with boundaries.
There is two main styles when talking about Farmhouse ale: Saison and Biere de Garde. Keep in mind that the specifics of a beer style do not define farmhouse ales.
A saison was typically a pale ale with around 7% ABV. The beer is often highly carbonated, fruity, spicy, and often bottle conditioned. Historically most Saisons were lighter beers in the 3-4% ABV range. It was used as a refreshment for the hard working farmers.
If you want to read more about Saison beer don't miss out on: What is Saison Beer?
A Biere de Garde is a strong pale ale traditionally brewed in Nord-Pas-Calais in France. These beers were brewed during the winter and spring to avoid unpredictable problems with the yeast. The color of the beer were typically amber to golden beers, and were often of high alcohol by volume that Saisons.
Is Spotted Cow good?
Spotted Cow is an multi award winning farmhouse ale from New Glarus Brewing Co.
| | | |
| --- | --- | --- |
| | Spotted Cow | |
| 2011 | Best Craft Beer – Gold | Madison Magazine |
| 2010 | Best Ale | Janesville Kiwanis Fall Festival of Ale |
| 2010 | Best Local Craft Beer – Gold | Madison Magazine |
| 2009 | Best Drink in WI; What to Drink | Bon Appetite |
| 2009 | Top 10 Beer Without GABF Hardware | Draft Magazine |
| 2008 | Top 6 Draft Picks | Chicago Magazine |
| 2008 | 12 Best Beers – July | Network Twenty |
| 2007 | Best Ale | Fall Fest of Ale |
| 2006 | Madison's Favorite Microbrew | Isthmus |
| 2006 | Top 3 Summer Beers | The Post-Crescent |
| 2002 | Best of Wisconsin | Wisconsin Trail's Magazine |
The popularity of the beer shows when you see that New Glarus brew about 45,000 barrels a year of Spotted cow, which accounts for about 40% of all the beer New Glarus brews a year. It is the best selling craft beer in Wisconsin, and is considered the best known beer in Wisconsin as well.
The beer is very forgiving, but still very complex. it does not scare people away like most IPAs do, because of all of the overpowerness of the hops.
A lot of people would argue that this beer has become so renowned because of the availability. It is impossible to get this beer outside of Wisconsin, so you'll have to visit the state of Wisconsin in order to get your hands on this beer.
It is possible to buy packages of beer at their gift shop, so you have enough for when you arrive at home again
Can you buy Spotted Cow outside of Wisconsin?
I am pretty sure you can buy a spotted cow outside of Wisconsin, apparently there are a lot of them in the midwest! Jokes aside. New Glarus Brewing Co. actually shipped their beer to neighbor states in the beginning of their journey. This was smart, since Chicago is one of the biggest beer-markets in the United States.
They later changed their mind in 2003 because they weren't able to keep up with the demand, and therefore wanted to focus more on Wisconsin. There is another reason to why they wanted to keep the beer in state – Deb Carey, co-founder of the brewery has said that the smaller breweries can't keep up with the big domestic breweries money-wise.
Spotted Cow can't be bought outside of Wisconsin.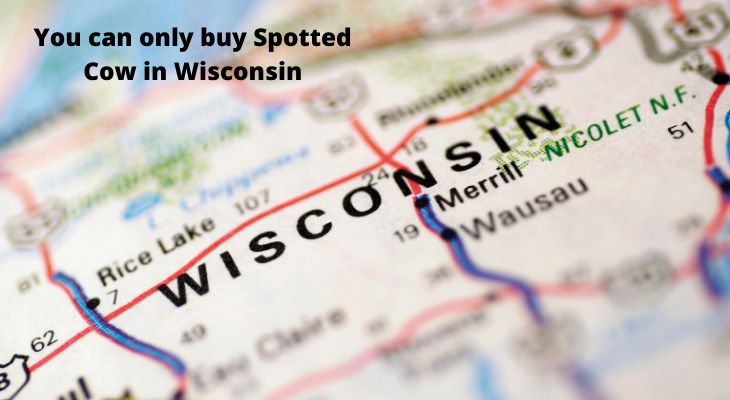 What does Spotted Cow taste like?
The Spotted Cow has some of the more typical fruity and earthy flavours you'll find in farmhouse ales. Spotted cow has a sweeter taste that reminds me of honey, orange peel or citrus, a great balance between malt and hops and a slight bready aftertaste.
In typical farmhouse ales all of these aromas and flavor derives from the additional spices being added to the beer, however, New Glarus Brewing Co. is brewing this beer accordingly to the German purity law, and therefore no additions of spices in this beer.
All flavors stems from local flaked barley and Wisconsin malts. The noble Saaz hops is also used in this beer, and it has a lot of flavor as well.
Spotted Cow is a beer that goes well with a lot of food you consume when you are over at your best friends barbeque party and different cheeses.
Is Spotted Cow an IPA?
The short answer to this question is no. Spotted Cow has been called a lot of things that it is not. Even famous websites ranking and reviewing beer got it wrong. The brewmaster and co-founder of New Glarus Brewing Co. called the beer a farmhouse ale – Even though he openly finds it annoying that people wants to categorize his beer. He compares categorizing beer to categorizing music. There is no need for it, as long as you are enjoying the beer.
If you want to be read more about IPA you can read more here: What is India Pale Ale?
How is Spotted Cow made?
Spotted Cow is a little bit different from other farmhouse ales since they are brewing it accordingly to the German purity law – Normally you have different spices added in the last 5 minutes of the boil.
When brewing a farmhouse ale you want to use light malt, and try not to overwhelm the hop, spice and yeast characters. In this specific beer there is used malted barley instead of the typical pilsner malt. This give the beer a more orange nuance.
Typically there is also other grain used in a farmhouse ale. In the spotted cow there is used malted wheat as well, and that can occupy up to 30% of the grain bill.
The Spotted Cow has five ingredients in it: Malted barley, malted wheat, hops, yeast and water
If you want to know more about the easiest type of beer to brew? Read more here: Easiest beer to brew
Different farmhouse ales to try!
After all of this talk about Spotted Cow and farmhouse ales you must be thirsty for more! Therefore i've collected a collection of farmhouse ales that you definitely should try!
Side Project Brewing Bière du Pays
This is a highly carbonated beer, but does not have the bite you would expect. There is lactose in this beer, and that provides creaminess that is unmatched. Fruity notes of citrus and passion with earthy undertones.
Sante Adairius Rustic Ales Saison Bernice
Juicy apricots with a hint of lemon. Some nice phenolic and funky layers that is balanced by a subtle tartness
DeGarde Brewing Roseberry
A lot of cherry and blackberry but without the sweetness. A slight hint of rosemary is found as well. Strong acidic flavors with a base of sour with herbal notes that adds depth to this beer.
Hill Farmstead Brewery Arthur
Grapefruit, lime and tart notes are up front in this beer. There's a moderate carbonation that compliments the acidic and builds up to the finish of peach sweetness.
Wicked Weed Brewing Fille de Ferme
A sour beer that leaves a lingering acidity. Carbonation is moderate and the beer has a very dry finish. Just like after eating a ripe apple. A slight sweetness from the honey help balancing the acidity.
How to Brew Spotted Cow at Home with Cloned Recipe
There is a lot of different clone recipes of the famous Spotted Cow all over the internet. Most of them are not brewed accordingly to the purity law as New Glarus Brewing Co. does it, but most of them will make a very fine clone, which means you no longer has to drive all the way to Wisconsin to get this magnificent beer!
I can recommend you to try this recipe from Amazon. It tastes just like Spotted Cow.
Last update on 2023-12-06 | *Contains Affiliate links | *Images sourced from from Amazon
The recipe includes:
Dry yeast
All grain golden ale kit
Pre-crushed grains
Fresh recipe made at time of order.
If you are more interested in brewing your own Spotted Cow at home, you can check out our guide on: What Every Home Brewer Needs
Read Also: Best Propane Burner For Homebrewing